Anderson Cooper's sexual orientation has long been an open secret for years and in 2007, he was the focus of Out magazine's cover story alongside Hollywood actress Jodie Foster about the glass closet – a situation where public figures are known to be gay but stop short at actually coming out on the record. (Foster came out in December 2007 by paying tribute to her "beautiful Cydney" during a speech at the Hollywood Reporter's Women in Entertainment breakfast.)
The 45-year-old globe-trotting news correspondent and host of "Anderson Cooper 360" on CNN has never publicly confirmed or denied his sexual orientation until he comfirmed the fact in an email to his long time friend and Daily Beast writer Andrew Sullivan, who is also gay.
"The fact is, I'm gay, always have been, always will be, and I couldn't be any more happy, comfortable with myself, and proud," Cooper said in the e-mail published on Monday, which Sullivan said he had Cooper's permission to share with the world.
Sullivan explained in his column that he had contacted Cooper for his comments on an article published last week in Entertainment Weekly, which reported how the public reaction to gay people in public life who come out has become less of a big deal that in past years.
In the email, Cooper, who has been relunctant to talk about his private life, explained his reasons for not coming out as gay sooner: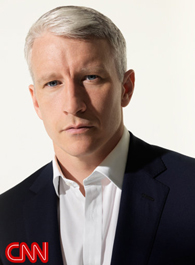 Anderson Cooper
"Andrew, as you know, the issue you raise is one that I've thought about for years. Even though my job puts me in the public eye, I have tried to maintain some level of privacy in my life. Part of that has been for purely personal reasons. I think most people want some privacy for themselves and the people they are close to.
"But I've also wanted to retain some privacy for professional reasons. Since I started as a reporter in war zones 20 years ago, I've often found myself in some very dangerous places. For my safety and the safety of those I work with, I try to blend in as much as possible, and prefer to stick to my job of telling other people's stories, and not my own. I have found that sometimes the less an interview subject knows about me, the better I can safely and effectively do my job as a journalist.
"I've always believed that who a reporter votes for, what religion they are, who they love, should not be something they have to discuss publicly. As long as a journalist shows fairness and honesty in his or her work, their private life shouldn't matter. I've stuck to those principles for my entire professional career, even when I've been directly asked "the gay question," which happens occasionally. I did not address my sexual orientation in the memoir I wrote several years ago because it was a book focused on war, disasters, loss and survival. I didn't set out to write about other aspects of my life."
He goes on to explain that he had recently begun to reconsider his position about not coming out publicly as it had inadvertently created a public perception he's "uncomfortable, ashamed or even afraid", and that visibility of LGBT people can help counter disrimination and bullying.
"Recently, however, I've begun to consider whether the unintended outcomes of maintaining my privacy outweigh personal and professional principle. It's become clear to me that by remaining silent on certain aspects of my personal life for so long, I have given some the mistaken impression that I am trying to hide something - something that makes me uncomfortable, ashamed or even afraid. This is distressing because it is simply not true.
"I've also been reminded recently that while as a society we are moving toward greater inclusion and equality for all people, the tide of history only advances when people make themselves fully visible. There continue to be far too many incidences of bullying of young people, as well as discrimination and violence against people of all ages, based on their sexual orientation, and I believe there is value in making clear where I stand."
"I still consider myself a reserved person and I hope this doesn't mean an end to a small amount of personal space. But I do think visibility is important, more important than preserving my reporter's shield of privacy."
CNN anchor and reporter Don Lemon, who came out as gay last year, was quoted as saying in the Atlanta Journal Constitution when asked about Cooper's coming out: "Kudos to him. I think we should all be positive and happy for him. Even though he's reached a degree of professional success not many people ever reach, I still think it's going to be great for him and help him be an even better person and journalist like it did for me."
Reflecting on his own coming out, he said: "It helps me so much personally. Whatever negatives it may have on my career has been far supplanted by what personal autonomy I've gained and confidence it has built. I think anytime you're true to yourself and open up, it can only help you."
The US news media has weighed in on the "news":
The LA Times: Anderson Cooper comes out as gay. Does it matter? Yes
Comments and reports from those who know Cooper suggest that the stigma of hiding in the closet finally outweighed the benefits of having a veil of privacy while working as a nonpartisan journalist in a time when gay advocacy has become a mainstream topic of debate.
Nick Denton, the boss over at Gawker — which is prone to outing journalists — said of course he'd been publicly "nagging" Cooper to come out of the closet.
"You can call that bullying," Denton, who is gay, wrote in a comment at Gawker. "But without some pressure, there wouldn't be nearly as many public homosexuals. Everybody agrees by now that visibility is essential if one is going to change attitudes. What they don't yet acknowledge is this: for visibility, you need a searing spotlight."
---
MTV.com: Why Anderson Cooper Coming Out Matters
Cooper had long been in what many call the "glass closet" — a phrase used for a person who is known to be gay but is not out publicly — and is the latest to step out, after "Big Bang Theory" star Jim Parsons, "Magic Mike" actor Matt Bomer and "Star Trek" actor Zachary Quinto all threw open the closet door in quick succession and with little fanfare earlier this year.
In terms of visibility and the shifting attitudes toward LGBT people, particularly gay men, in the media, Bomer and Cooper now find themselves in different but equally game-changing roles.
---
The New York Times: Revelation Signals a Shift in Views of Homosexuality
For one of America's best-known television news anchors to be identified as gay was, until very recently, seen as a potential career-killer.
But then, on Monday, it happened. And the TV nation seemed to shrug.
...
But his thinking changed over time, just as has the country's attitudes toward gays and lesbians.
"Our operating assumption," a former CNN executive said, "was that anybody who cared, already knew, and that most people didn't care." The executive, like others interviewed for this article, asked for anonymity to preserve professional relationships.
---
LA Times: Anderson Cooper says he's gay, and no one is shocked
What we hope is that being gay will become as innocuous a trait as being male or female, blond or brunette, bald or long-haired -- just another personal descriptor and not a lightning rod for debate, a litmus test for politics or a revelation that breaches some sensitive zone of privacy. And the more that the Anderson Coopers of the world simply say that they're gay, the less it will be a big deal that they're gay.