A 25-strong contingent marched under the Ismaili Queers: Advocates for Pluralism banner at Toronto's 32nd annual pride parade on Sunday. About 158 groups took part in the annual parade that wound its way through Church, Bloor and Gerrard Street in downtown Toronto with an estimated million people lining the route.
In a statement sent to Fridae, the group said of their participation: "This is a groundbreaking event for the Ismaili Queer (IQ) community as it speaks to the mobilisation of support within the larger queer and Muslim communities that will make visible its multiple generations of history on July 1st. This year we had a float ourselves and the capacity (in numbers, resources) to register as our own marching contingent. The theme of (our) first ever float is 'Love - Connecting Ismailis of Many Ancestries.'"
The group marched for the first time at last year's parade alongside the Alliance for South Asian AIDS Prevention and Salaam: Queer Muslim Community.
The statement added: "There are Ismailis throughout the world with many different cultural roots – it's a community comprised of South Asian, Middle Eastern/Persian, Central Asian, and East African influences. This plurality was reflected in the Pride attire and float decor.
"(At) Toronto Pride 2012, spectators cheered on the group in affirmative response to the strong messaging put out by the contingent, e.g. 'Allah is my Ally' and 'Marching for those who can't'".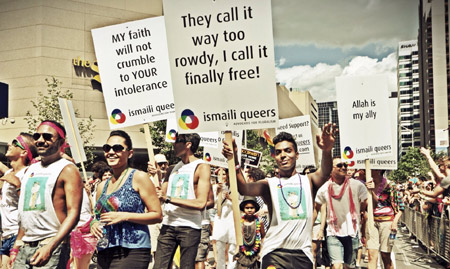 Ismaili Queers at the 2012 Toronto Pride parade. Photos by Hamidah Hemani.
"The Shia Imami Ismaili Muslims, generally known as the Ismailis, belong to the
Shia branch of Islam. The Shia form one of the two major branches of Islam,
the Sunni being the other. The Ismailis live in over 25 different countries,
mainly in Central and South Asia, Africa and the Middle East, as well as in
Europe, North America and Australia." – The Ismaili Community


Formally organised in 2008, IQ is a support group for anyone who identifies with the Ismaili faith/community religiously, culturally, ideologically, and/or politically and also identifies as lesbian, gay, bisexual, transsexual/transgender, queer or questioning. The goals of the group is to create visibility, advocate for LGBT inclusion and acceptance within the greater Ismaili and queer communities, and most importantly to provide a 'safe space' for Ismaili queers, regardless of their comfort with being "out" in the general public.
The group maintains a Facebook community but is not searchable for the privacy of its group members which number 175 and are located around the world. According to the group's spokesperson, the most active membership resides in Toronto due to logistical critical mass but both Toronto and Vancouver have had social events such as ice skating, Eid dinners, and other cultural/religious celebrations."
If you would like to join the group or request information, IQ can be contacted via ismaili.queers@gmail.com
Read more about Ismaili Muslims in the related links below.