Aside from being aware of Singapore's section 377A – a colonial-era law that criminalises same-sex sexual relations between men and the widespread campaign in 2007 to support its repeal, and the police banning of the annual Nation party last organised by Fridae in Singapore in 2004, organisers of Indignation, the city-state's annual LGBT pride season, say many LGBT Singaporeans are not likely to know much else about the community's history.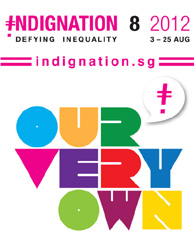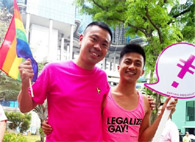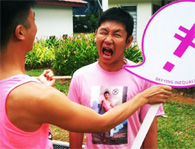 Middle: Co-organisers Miak Siew and Loo Zihan (right) at Pink Dot 2012. ContraDiction organiser Ng Yi-Sheng (bottom picture). Photos: Facebook
This year's theme "Our Very Own" is meant to help the community discover its history and heritage.
For co-organisers Miak Siew, playwright/writer Ng Yi-Sheng, artist/arts teacher Loo Zihan and the rest of the team putting together this year's IndigNation season, the "amnesia is a cause for concern."
"We're seeing in young and 'not-so-young' Singaporeans a growing hunger for the past, a desire to understand where they've come from," says festival co-ordinator Miak Siew, who works as the pastor of Free Community Church.
"Actually, we're not so much interested in the gay community's history as with its heritage. The big difference is that history is just the Past with a capital P. Heritage, on the other hand, involves drawing a connection from past events to the present and into the future."
"A lot of gay history is undocumented, so we're not attempting a comprehensive overview. Instead, what we're trying to do is to start the process of remembering," he added.
Loo Zihan, whose recent work Cane drew considerable critical attention with its re-enactment of Josef Ng's 1993 performance art piece, was immediately interested when Siew raised the idea of uncovering Singapore's gay heritage.
"This jived perfectly with what I'd been trying to do with Cane to help gay people better understand what has occurred before – politically, culturally, socially – so that they can better deal with the present," Loo explains.
For the festival's opening on Aug 3, it will be a double-bill. The first half "Time & Its Discontents: Our Very Own Films" will comprise short films that deal with time and history while the second half "The Morning After 377A: Our Very Own Think-Tank" will be a presentation and discussion of where the Singaporean LGBT community has been and where it's headed.
Ng Yi-Sheng, a noted local poet and playwright, feels that heritage is important to gay people at a psychological level.
"It roots and grounds you as a person when you know you're not alone; that there are people who have gone before and struggled and loved and lived in similar ways as yourself," says Ng. He has been involved with the gay poetry-and-performance event ContraDiction since its inception eight years ago and has helmed the event since 2007. This year's installment will honour some of Singapore's oldest works of queer literature from the 1980s.
While the eighth edition of IndigNation begins this Friday, Aug 3, the team is already thinking ahead to the next two to three years. Rather than simply unpacking gay history, IndigNation, it seems, wants to see how it leads into the future.
"Most of the co-organisers are in their 30s, and we're realising that a lot of young gay people have no connection to their histories," observes Siew.
"They don't know about the 1993 police entrapment cases, or how LGBT Singaporeans met, courted, and got it on in a pre-Internet age. But we know they're curious, and it's not just them, but older LGBT persons as well. We want to unearth and preserve these lineages for the gay community, and for Singapore at large."
IndigNation 2012 will run from Aug 3-26 at various venues. The schedule below is correct at the time of publication. For the latest, visit indignation.sg.
Fridae is proud to be an official sponsor of Indignation since 2005.
---
IndigNation 2012 Schedule of events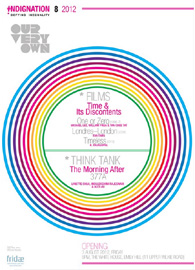 Opening event, Fri, Aug 3: Time & Its Discontents. By registration only,
click here
.
Time & Its Discontents: Our Very Own Films + The Morning After 377A: Our Very Own Think-Tank
Fri 3 Aug 2012, 8pm, The White House, Emily Hill
By registration only, click here.
We kick off IndigNation with a double-bill – a screening of three short films by gay and lesbian filmmakers on the theme of time and memory is followed by a panel presentation that examines the LGBT community's past, present and future.
Time & Its Discontents: Our Very Own Films
Michael Lee, William Phuan and Tan Chee Tat, One or Zero (1996-7)
How did gay men in Singapore communicate among themselves, with themselves and with mainstream society in the 1990s? In One or Zero, the filmmakers adopt visual ethnography as a guiding framework to produce a collage of vignettes that peer into a gay man dealing with sexual awakening, celebrity identification, outing to family, romance, cruising, community, homophobia and the AIDS crisis. The film picked up an award in 1997: First Prize (Experimental Category), United Film and Video Association's Student FIlm and Video Awards, Texas. It was also banned in the then Board of Film Censors in 1997 for "condoning an alternative lifestyle."
Eva Tang, Londres – London (2006)
Eva Tang's recent Londres-London is a tale of damaged love set against the backdrop of a London damaged by the 2005 bombings. Eva holds the distinction of being the first Singapore filmmaker who had her short film selected by Venice Film Festival in 2002; among other awards, Londres-London has clinched the Governor Award of the Akira Kurosawa Memorial Short Film Competition, Best Artistic Film in Shanghai, and the Jury Recommendation at the Hong Kong Independent Short Film & Video Awards.
K. Rajagopal, Timeless (2010)
What does the abolition of slavery and the murder of J.W.W Birch, which spearheaded the nationalism movement in Malaya, in Pasir Salak, Malaysia, on the 2nd November 1875 and the massacre which discoloured the pages of Singapore's history on the 1st June 1969 have to do with an alienated post-modern man? Impotency can cast a long shadow over time, beyond its depiction, this is the story of Siva through the looking glass, woven over time with the threads of humanity.
A veteran stage actor and television director, K. Rajagopal has the honour of being the only filmmaker to have won the Singapore International Film Festival Short Film Competition Special Jury Award for three consecutive years with I Can't Sleep Tonight (1995), The Glare (1996) and Absence (1997). Timeless was commissioned by the National Museum of Singapore.
The Morning After 377A: Our Very Own Think-Tank
Lynette Chua, Indulekshimi Rajeswari and Alex Au
Where have we been? How did we get here? Where should we go from here? Since the early 1990s, Singapore's lesbigay movement has grown and changed in many ways. As we await the pending decision of Tan Eng Hong in the Court of Appeal, socio-legal scholar Lynette Chua, lawyer Indulekshimi Rajeswari and socio-political blogger Alex Au look back at the trajectory of the movement over the past two decades and get you in on a discussion on how it can and should move forward.
Airing the Closet: Our Very Own Chit-chat
Sat 4 Aug 2012, 7pm to 10pm, 7 Kickstart Brewiches (Armenian St opposite Substation)
What it's like to come out as a gay person in Singapore? How do the themes of our hopes, guilt and silence play out, both in and out of the closet? Coming out can be painless for some, but stressful and even traumatic for others. Through the sharing from our guest speakers and audience in a talkshow format, Sayoni hopes to delve into the complexities of how every LGBTQ person reveals their sexual orientation, for the first time, and each subsequent time, in the coming out process. If you're thinking of coming out, have questions of your own or stories to share, come and join us for an evening of chit-chat!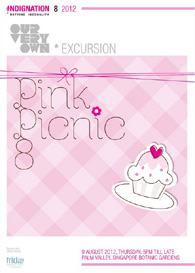 The 8th Unofficial Pink Picnic: Our Very Own Excursion
Thu 9 Aug, 5pm till late, Palm Valley, Singapore Botanic Gardens
Four years before the first Pink Dot, we had the Pink Picnic in 2005. It's been around all this while – an afternoon of outdoorsy pink sunshine and great conversation once a year. So pack some food and drinks, and some extras to share with your fellow picnickers. Talk to perfect strangers and catch up with old chums from your closeted days. Imagine a different Singapore - friendlier, more fun, more loving and a little more pink. For one afternoon, imagine a Singapore as pink as our NRIC.
Booklaunch of The Pillow Book by Koh Jee Leong: Our Very Own Literature
Fri 10 Aug, 7.30 pm, BooksActually (9 Yong Siak Street)
Math Paper Press launches Koh Jee Leong's new chapbook The Pillow Book. Written in the Japanese genre called zuihitsu, these miscellaneous jottings by one of Singapore's finest poets throw a kaleidoscopic light on life in Singapore and New York.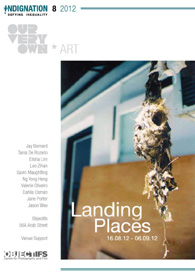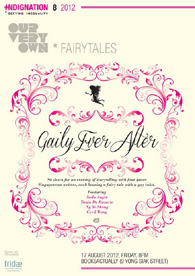 Landing Places: Our Very Own Art
Thu 16 Aug, 7pm, Objectifs (56A Arab Street); exhibition runs till 6 Sep
Landing Places is a Singapore-based, multidisciplinary exhibition happening in conjunction with IndigNation 2012. It features work by 10 queer artists and seeks to document experiences of how our sexualities affect the ways in which we define, create, articulate, question, reject and/or relate to notions of home. The exhibition will comprise drawing, painting, photography, collage, and animation.
Gaily Ever After: Our Very Own Fairy Tales
Fri 17 Aug, 8pm, BooksActually (9 Yong Siak Street)
Sit down for an evening of storytelling with four queer Singaporean writers, each bearing a fairy tale with a gay twist. Featuring Ng Yi-Sheng, Cyril Wong, Tania de Rozario and Anila Angin.
Are You GAYme Enough? 2: Our Very Own Gameshow
Fri 17 Aug, 9.30pm, Play (21 Tanjong Pagar Road)
Oogachaga brings back the popular 'Are You GAYme Enough?', and this year's edition promises to be bigger, better and raunchier! Watch the contestants battle it out on stage as they get quizzed on topics ranging from sexuality and sexual health to local LGBT history and culture. Join in the fun by assisting (or sabotaging) the contestants when they use the 'audience card' or the 'helpline card'. We're not sure if it'll be the survival of the smartest or the cutest – what we do know is that one very GAYme champion will walk away with grand prize worth $3000! First 100 audience members get free entry and a standard housepour! To join as a contestant, simply register at http://tinyurl.com/OCGayme Register before 12pm, 10 August 2012. Like us on Facebook at http://tinyurl.com/OCGayme and stand to win a pair of tickets to Toy Factory Productions' Purple! Hurry, contest ends on 27 July, at 12 noon.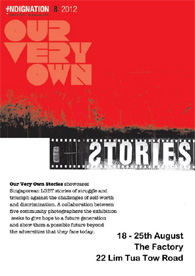 Our Very Own Stories
Fri 24 Aug, 8pm, The Factory (22 Lim Tua Tow Road); exhibition runs till 7 Sep
Our Very Own Stories showcases real Singaporean LGBT people who have struggled and triumphed against the challenges of self-worth and discrimination. Curated by Nicholas Deroose, this collaboration between five community photographers seeks to give hope to a future generation and show them a possible future beyond the adversities that they face today.
ContraDiction 8: Our Very Own Literature
Sat 25 Aug, 7.30pm, The Reading Room (21 Tanjong Pagar Road, #04-01 – former Mox Bar)
Our annual queer literary evening is back, with a new focus! Listen to some of Singapore's oldest works of queer literature from the 1980s, as well as works by our youngest writers from the 2010s. Featuring Ovidia Yu, Joel Tan, NUS Poet-in-Residence Jay Bernard and many more.
For the latest, visit indignation.sg.