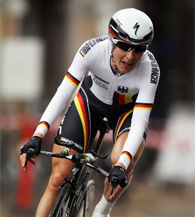 Judith Arndt
Judith Arndt of Germany became the first openly gay athlete to medal at the 2012 Olympics. She took silver on Wednesday in the Women's Cycling Time Trials after finishing 15 seconds behind American Kristin Armstrong who took the gold and Russian Olga Zabelinskaya came in third, reports cyclingnews.com.
This is the third Olympic medal for the 36-year-old Arndt, who first won bronze for the 3000 Meter Pursuit at the 1996 Summer Olympics in Atlanta, and a silver in the road race at the Athens Olympics in 2004.


Matthew Mitcham
Photo: london2012.olympics.com.au/athlete/matthew-mitcham
Hot favourite and defending Olympic diving gold ­medallist Matthew Mitcham will compete at the Men's 10m Platform Preliminary Round event on Aug 10 Aug. The 24-year-old Australian recently told the Australian Financial Review that as one of a handful of openly gay athletes at the Olympics, he sais he has struggled to attract sponsors, even after winning gold in Beijing. Although he is an ambassador for Qantas, he was disappointed he didn't have more endorsement deals.
According to gay sports community website outsports.com, of the 12,000 athletes at London 2012, only 23 are openly gay or bisexual, an increase from 11 at the Beijing Games in 2008.
There are also two out coaches and a mentor to the US diving team, and two gay Paralympians.
Of the twenty in London this year, only three are men: Mitcham, Edward Gal and Carl Hester. Mitcham was the only known openly gay athlete at the Beijing Games. The lesbian and bisexual women come from a range of sports: field hockey, basketball, beach volleyball, soccer, cycling, fencing, equestrianism, triathlon, handball, tennis, and only two in the triathlon.
Outsports.com lists the following:
Marilyn Agliotti (Netherlands, field hockey)
Judith Arndt (Germany, cycling)
Seimone Augustus (U.S., basketball)
Natalie Cook (Australia, beach volleyball)
Lisa Dahlkvist (Sweden, soccer)
Carlien Dirkse van den Heuvel (Netherlands, field hockey)
Imke Duplitzer (Germany, fencing)
Edward Gal (Netherlands, equestrian)
Jessica Harrison (France, triathlon)*
Carl Hester (Britain, equestrian)
Alexandra Lacrabère (France, handball)
Jessica Landström (Sweden, soccer)
Hedvig Lindahl (Sweden, soccer)
Matthew Mitcham (Australia, diving)
Maartje Paumen (Netherlands, field hockey)
Carole Péon (France, triathlon)*
Mayssa Pessoa (Brazil, handball)
Megan Rapinoe (U.S. soccer)

Lisa Raymond (U.S., doubles tennis)
Rikke Skov (Denmark, handball)
Ina-Yoko Teutenberg (Germany, cycling)
Péon and Harrison are a couple (in French).
In addition, Pia Sundhage, U.S. women's soccer head coach, is openly gay, as is Hope Powell, Britain women's soccer coach. The gay Paralympians are Lee Pearson, a male British equestrian athlete, and Claire Harvey, a member of Britain's women's volleyball team. Olympic diving icon Greg Louganis, who is openly gay, HIV positive is serving as a mentor for American divers for the first time since retiring from diving after the 1988 Olympics.
SBNation.com provides a stream of every result featuring gay and lesbian Olympians in London here.