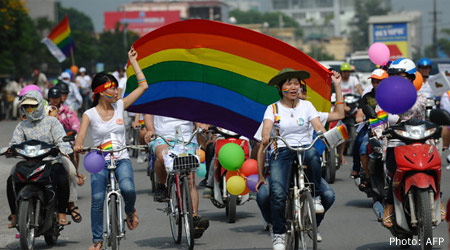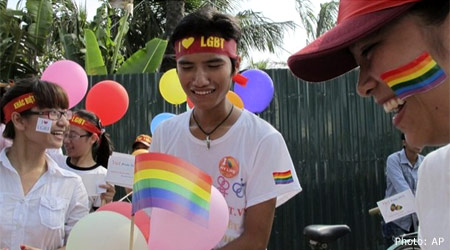 Hanoi held its first LGBT Pride on August 5, a march-cum-ride that went from the National Stadium to a downtown park.
Dozens of cyclists decorated with balloons and rainbow flags streamed through the Vietnamese capital of Hanoi on Sunday for the first gay pride parade in the nation's history.
Organised by the city's small but growing Lesbian, Gay, Bisexual and Transgender (LGBT) community, the event went ahead peacefully with no attempt by police to stop the colourful convoy of about 100 activists, despite their lack of official permits. …
"We don't have permission for this and even if we had asked for official permission it would not have been possible," said Van Anh, to the AFP news agency. "But we have a lot of support from Vietnamese society. Many people told me they want to attend the parade," she added.
That's from an AlJazeera English report (it's almost as fascinating to have a Qatar-based news outlet devoting extensive coverage to sexuality these days). AP adds:
Demonstrators trailed rainbow-colored streamers and shouted "Equal rights for gays and lesbians!" and "We support same-sex marriage!"
It was a scene that was unimaginable a few years ago, when Vietnam still labeled homosexuality a "social evil" alongside drug addiction and prostitution. The country's gay community was once so underground that few groups or meeting places existed, and it was taboo to even talk about the issue.
There are many more pictures here.
This comes after Vietnam's government announced in late July that it would address the status of same-sex couples, possibly with provisions for same-sex marriage, in a coming overhaul of marriage laws:
Video of Vietnam's first publicized gay wedding went viral online in 2010, and a few other ceremonies followed, capturing widespread public attention. The Justice Ministry now says a legal framework is necessary because the courts do not know how to handle disputes between same-sex couples living together. The new law could provide rights such as owning property, inheriting and adopting children.
"I think, as far as human rights are concerned, it's time for us to look at the reality," Justice Minister Hà Hùng Cường said Tuesday in an online chat broadcast on national TV and radio. "The number of homosexuals has mounted to hundreds of thousands. It's not a small figure. They live together without registering marriage. They may own property. We, of course, have to handle these issues legally."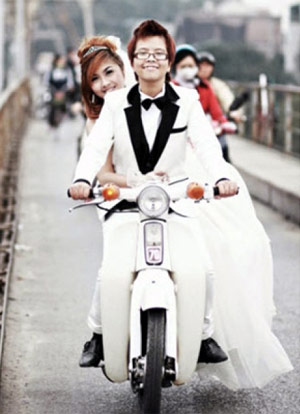 Vietnam's first publicised same-sex wedding between 2 women.
Photo: Tuoi Tre News. Last month, he same newspaper reported
that another lesbian couple threw a wedding party for 150
people in a restaurant in Thu Dau Mot City.
As I grow older I find I am becoming Eeyore, always determined to look at the unbright side of life. God forbid I should rain on this parade of cyclists, or their courage (AFP notes that the parade website warned each marcher to "consider his/her personal circumstances and the risks possibly involved before participation").
Yet this march is no sign of widespread social liberalization. Vietnam remains an extremely repressive polity, and other politically as well as socially marginally groups still bear the brunt. Here's more news from yesterday:
Vietnamese police detained at least 20 people on Sunday as they broke up a protest in Hanoi against Beijing's territorial claims in the disputed South China Sea, witnesses said.
Demonstrators were forced into waiting buses and taken to a rehabilitation centre usually used to detain sex workers and drug users, after attempting to gather in defiance of a heavy police presence, one detainee told AFP.
"There are at least 25 people here and there are arrestees elsewhere," the person — who requested anonymity for security reasons — said by telephone from the Loc Ha detention centre. [emphasis added]
Or this, from last week — one reflection of a growing government campaign to imprison dissident bloggers:
The mother of a prominent Vietnamese blogger has died from her injuries after setting herself on fire in front of government offices, her family says.
She was protesting against the detention of her daughter, Ta Phong Tan, who is facing charges of anti-state propaganda, another daughter told the BBC's Vietnamese service.
Dang Thi Kim Lieng set herself alight in southern Bac Lieu province. Her daughter faces trial in August and could be jailed for 20 years.
Ta Phong Tan, a former police officer, wrote a blog called Cong ly va su (Justice and Truth), drawing attention to state abuses and demanding social justice. Arrested last September, she faces trial this month and could be sentenced to 20 years in prison.
Cuba, of course, also indicated recently that it may move toward same-sex marriage, under the stewardship of Mariela Castro, President Raul's daughter. The cases seem to me remarkably similar. Both are authoritarian governments, with Communist parties still steeped in the repression of dissent, and powerful histories of social control. Both seem to have decided that the best way to deal with a new, increasingly visible and vocal minority without a clear or oppositional political agenda is to integrate it into the existing structures of society and subordination. They rely on recognition to contain it, and marriage is one of the most trustworthy containers around.
Authoritarian governments do not like invisible groups, sneaking around in the subterranean structures of society. They want a transparent life-world, with everybody's activities fully exposed like ants in an ant farm, or happy hamsters. The instinctive response to identities that prefer the safety of occlusion is to drag them kicking and screaming into the light– the switchless light of prison, under the perpetually buzzing electric bulbs of the Lubyanka. Stalin's prosecutor Nikolai Krylenko famously expressed these fears, and this solution, in clarifying why the dictator recriminalized homosexual conduct in the 1930s. Homosexuals were subversives, he shouted:
Classless hoodlums, either from the dregs of the society, or from the remains of the exploiters' class. They have no place to go. So they take to — pederasty. Together with them, next to them, under this excuse, in stinky secretive bordellos another kind of activity takes place as well — counter-revolutionary work.
The traditional response of repression is not always the best-working one, however. Sometimes, if you can't beat them to a pulp, it's better to join them. Or, more properly, to make them join you. Recognition is a comparatively painless way of easing the invisible into the light. Recognition in marriage is potentially a splendid means of identifying, registering, and integrating dissident sexualities, subjecting them to a state-defined structure that normalizes and depoliticizes them, nullifying and Novocaining any residual anti-social impulse.
There's a pretty extensive literature on how marriage serves this function, even (or especially) in ostensibly democratic societies. After the Civil War and emancipation, for instance white American leaders hoped to shove or shovel former slaves into marriages, expecting that legal recognition of their relationships would impose on them a new form of institutional regulation — and would tame them for membership in a contract-dominated society. Tamara Nopper describes some of the motives as well as consequences:
African Americans were aggressively pushed to marry and register their marriages with the state. Registration policies (and the granting of certain rights to Blacks in general) also became a means to police and criminalize African Americans. For example, Blacks who married and failed to register with the state were prosecuted. Demonstrating the afterlife of slavery, the attempts of slaves to express some emotional autonomy and forge their own marriages (without the legal ability to contract) on plantations became the basis of social control in the post-Emancipation period. Black codes in different states declared slave couples who lived together during slavery as legally married. … In cases where a Black man might have multiple spouses, Freedmen's Bureau agents would designate the Black woman with the most children to be his wife. Additionally, these policies and practices served as forms of privatization and anti-Black austerity as "the government used marriage to financially and socially domesticate newly freed Blacks to ensure that the white public faced minimal responsibility for former slaves' economic security." Put simply, instead of reparations, African Americans got marriage.
And Nopper detects in so-called "welfare reform" a contemporary, neoliberal revival of this push:
While some have described how Americanization campaigns encouraged marriage among immigrants during the Progressive Era or how gay marriage was facilitated by some city and local governments in the early 2000s, the most striking example of governments promoting marriage among U.S. minorities is the targeting of African Americans. ….
As several scholars and analysts emphasize, contemporary welfare reform, primarily targeted at the mythical "Black welfare queen" (despite the diversity of welfare recipients), pushed marriage among poor women as a solvent for poverty and female-headed households. Indeed, as Priya Kandaswamy points out, the 1996 Personal Responsibility and Work Opportunity Reconciliation Act (PRWORA) begins with the following "finding" from Congress: "(1) Marriage is the foundation of a successful society." … PRWORA enacted, among other draconian measures, "stricter paternity identification practices" designed to force poor women to become more dependent on men with whom they had children (men who were most likely also poor). With little consideration for the dynamics of the relationship (be it violent or collegial), poor women were expected to maintain a particular type of relationship with men than to continuously access state support for taking care of themselves and their children.
Cuba and Vietnam are authoritarian in a different way from the United States, and they lack the full flowering of the US's racial paranoia about a segregated underclass. But in confronting the sudden emergence of uncontrolled and unregulated forms of sexuality, their inchoate responses so far have a certain similarity to post-slave society, post-Great Society America.
A few examples do not a tendency make, but I wonder to what degree societies in the grip of authoritarianism (either in its neoCommunist or neoliberal versions, which in any case clearly are on the merge) will find same-sex marriage a useful tool for co-opting and controlling a novel social group.
China will perhaps be the test case. Right now, China is having enough problems with heterosexual marriages to keep it busy. If the People's Republic starts moving toward recognizing same-sex unions, though, the rhetoric about marriage equality as a new step toward freedom will deserve a bit of re-examination.
But then, who am I to say? I'm Eeyore. Don't pay any attention to me.
The column was first published on Paper-bird.net and is republished with permission. Scott Long is a Visiting Fellow at Harvard Law School's Human Rights Program; and founding and former director of the Lesbian, Gay, Bisexual, and Transgender Rights Program at Human Rights Watch.