Both Dean Francis and Stephen Davis have had such deep personal encounters with bullying as boys that they continue to draw on those experiences in their adult professional lives.
Francis, who is the director and co-producer of Drown, says he was so tremendously moved by Davis's acclaimed play that follows three lifesavers on a big night out when jealousy, homophobic fears and unrequited lust culminate in a tragic booze-fueled episode of bullying that he's inspired to adapt it for the big screen. One of the young men, Len, an heroic but homophobic surf lifesaver finds himself attracted to Phil, a younger, openly gay lifesaver but is unable to cope with his emotions.
Written by Glasgow-born Davis and performed by the Queensland Theatre Company in 2001, Drown was inspired by the playwright's experiences as a 14-year-old boy who witnessed a male friend being stripped and humiliated by group of older male friends but was afraid to try to stop the attack.
Francis says he looks back at his time in school with "utter terror" as bullying was a daily occurrence at his all-boys school. He had to defend himself by being violent. His 2005 controversial but powerful short film Boys Grammar about school-yard violence and intimidation had Australia talk about the issue of bullying in schools.
The duo are now trying to "crowd-fund" the film, by asking the community to contribute small amounts of money in exchange for various rewards and perks, and hope that Drown will appeal to a much wider audience than the gay and lesbian crowd and those who already feel strongly about bullying.
Francis and Davies tell Fridae more about their personal experiences with bullying, why it's an important story to tell and how film is a prefered medium to communciate an issue like bullying to have maximum emotional impact.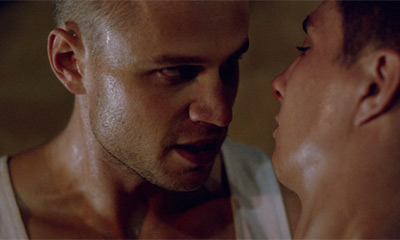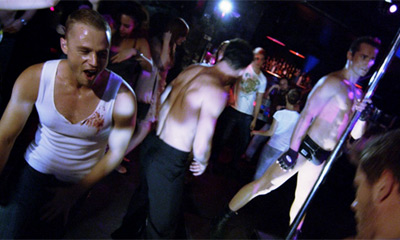 æ: From the trailer, Drown looks like a grittier and more charged mash-up Baywatch and Jersey Shore, or are there better comparisons? Tell us more about Drown and its characters.
Dean: Drown is more like a mash-up of Shame and Big Wednesday. Drown is set on Sydney's iconic beaches and tells the story of Len, an Australian hero. He's the swimming champ, the most prolific lifesaver on the beach but, like many Australian men, Len is quite homophobic. When Phil, a younger gay lifesaver joins the surf club, Len starts to intimidate and bully the newcomer. But we soon realise that Len is attracted to Phil. As Phil gets into a relationship with a confident older gay guy, tension builds between Len and Phil's new boyfriend. It all comes to a head during a night out of heavy drinking when Len is forced to confront the real reason behind his need to intimidate Phil.
æ: What inspired you to write the play of the same name? How will you be involved in the production of the film?
Stephen: The inspiration came from a real life experience. I was 14 years old and had the opportunity of going to Surf Life Saving Club on the Gold Coast in Queensland. One weekend there was very little adult supervision. As a result the boys in the club – most of them three or four years older than me illegally brought in alcohol and proceeded to get quite drunk. But as the night went on their inebriation turned nasty and they turned their attention and aggression against one individual. What they did was awful. They humiliated him, stripped him bare. Hosed him down with the fire hose in the men's toilets, they took a snooker cue to him and finally covered him in engine grease all in the name of fun. But it wasn't fun. It was awful and I saw it all. I didn't stop them either. They were older than me and I was a little scared. But the event has always stuck with me. So when I was commissioned to write a play for the Queensland Theatre Company I turned to this experience because I thought it was about time I told the story and about time Australian Culture was confronted with the down side of mateship.
I will be co-producing the film with Dean. This will entail ensuring the departments are functioning under the leadership of our Production Manager, Lucy Vecchio. I am also raising funds for the work.
æ: How did you come to be involved and what made you to want to do the film? Why is it an important story to tell?
Dean: Stephen sent me his play last year because he wanted me to direct it on the stage. I was so moved by reading it – it was a very arousing piece of writing but also profoundly sad. I immediately started to think about how we could adapt it for the cinema, which is my preferred medium. Then I pitched the idea to Stephen and we decided we should go ahead and make Drown as a truely independent production without waiting years for international financing to fall into place.
It's a really important story to tell because homophobia is still a huge part of Australian society. Young gay people have no role models in cinema to look up to. Whenever a gay character appears in cinema, they have tragic lives, such as in Brokeback Mountain or A Single Man. This sends a message to gay teenagers that they are destined to live tragic lives – and of course nothing could be further from the truth.
So as well as wanting to draw attention to the tragedy of homophobia, we also want to tell a story about gay men and women who are happy and successful and are able to overcome obstacles through self-belief and by staying true to who they are.
The film also looks at the origins of bullying. Gay teenagers are far more likely to be bullied and six times more likely to take their lives. By making Drown, we are putting these issues of bullying and homophobia into mainstream discussion and challenging audiences to think deeply about their values and attitudes.
æ: Dean, your 2006 short film Boys Grammar, which is said to be based on a true event, featured a 15-year-old boy who was brutally attacked and raped at his elite private boys' school. Even when he told his father (an abridged version of what had happened), he received little support or even sympathy from his father who said he himself survived bullying and the son should accept it as character building ("What doesn't kill you makes you stronger...") – not an uncommon response from parents and teachers. What was the public response to the film?
Dean: The public response to Boys Grammar was overwhelming. When the film came out it was the subject of front-page articles in all the major newspapers in Australia. A Current Affair even did a story on it! I received thousands of emails from people effected by bullying and was extremely moved as I realised how profoundly people were suffering. Boys Grammar was only a seven-minute short and I realised how powerfully we could impact the issue if we made a feature film on the subject. This was really the origin of Drown looking back on it.
Boys Grammar continues to spark heated debate on Youtube and has been viewed almost 400,000 times.
æ: How can a film raise awareness about bullying?
I think the film industry puts too much emphasis on making huge profits and not enough on the power of film to change society for the better. Film is so impact-full because it engages audiences on an emotional level, instead of on an intellectual level. Someone can intellectually against homophobia but until they see the world through the eyes of someone who is gay and being bullied they will not know what it actually feels like. When we walk a mile in someone else's shoes we're more likely to fight against the injustice we see around us instead of being passive.
There is also the fact that by releasing a film you generate publicity around the issue of your film and this keeps the topics of bullying and homophobia in the consciousness of the media and society.
æ: What is the situation with regards to bullying in Australia today and how are schools handling it?
Dean: Schools in Australia have a notoriously poor record when it comes to bullying and anti-homophobia. Even when students report being bullied, school administrations are very reluctant to take action. Very often its not until a school is sued by parents that anything is done.
However, hopefully this is changing. Twenty10 is a youth organisation here in Sydney and they are trailing a program called Proud Schools in conjunction NSW Family Planning and the NSW Police. It will educate school-aged children about the consequences of homophobic bullying and also engage school staff and parents. Drown is partnering with Twenty10 and will offer the organisation a proportion of the profits from the film.
æ: What was your experience growing up? Did you encounter any bullying at school or have schoolmates who were?
Dean: I went to an all-boys school so bullying was a daily occurrence. Anyone who was different from the rest was a target. I saw kids so deeply traumatised that they attempted suicide, or stopped coming to school altogether. Eventually I was forced to become fluent in the language of violence and once I learned to defend myself I was better able to fit in. I look back on my time in school with utter terror.
æ: How does masculinity and pack behaviour relate to bullying whether in schools or anti-gay attacks perpetuated by grown men?
Bullying is often – but not always – an attempt by young men to live up to what they feel society expects of them in order to be considered masculine. We all grow up with such a narrow definition of masculinity as a homogenous concept and we are conditioned from an early age to defend masculinity at all costs. If someone within a given peer group challenges this narrow definition of masculinity by, for example, being male but slightly effeminate, or by being gay then it often makes those who are not completely comfortable in their male identity uneasy. It unsettles their very definition of themselves and their instinct is to become enforcers. Masculinity is not an "essential" concept, its one constructed by society and is created by a set of rigid behaviours. To be "un-masculine" is to threaten the very idea of masculinity, the very power base of the patriarchy. What's unsettling about this is that as well as finding enjoyment in acts of male pack terror, many perpetrators of bullying feel morally justified in their actions, as if they re doing their bit in the greater good to protect what it is to be male.
Society's over-reliance on gender must be addressed. We must broaden out our definition of masculinity to make it more inclusive if we are to end the suffering of bullying victims.
æ: How can people and in particular men be made to examine their attitudes and behaviour?
The way to encourage men to examine their own behaviour is to force them to walk a mile in someone else's shoes. That's what Drown does for an audience. However, in order for our film to find an audience, it can't be all gloom and doom – there must be a cinematic pleasure in the journey of the characters, there must be fun and lightness and comedy. We hope that Drown will appeal to a much wider audience than the gay and lesbian crowd and those who already feel strongly about bullying.
If you look at any struggle by a group for social acceptance – for instance the women's movement or the African American struggle, the struggle against apartheid or the struggle for Aboriginal rights in Australia it begins slowly often with a small group of highly political and militant people riling against the status quo. Then it spreads to a wider societal base – often through art, music and film – and gathers momentum until mainstream authorities jump on the cause. I would like to think that Drown can be a small but hopefully important part of the process of raising awareness and persuading authorities to look at the issue more seriously to instigate greater social change.
æ: On Indiegogo.com, it shows that the film has raised A$14,000 of its A$100,000 (US$104,000) budget via crowd-funding. What's the timeline for the production of the film?
The total budget for the film is A$100,000. The film is confronting – it's an arthouse movie, not a blockbuster and so it's a film that would take years to finance in Australia if we approached production in the conventional way. We have our own digital cinema camera. Having taught at film school for the past five years, Stephen and I have a small army of very well trained film school graduates willing to defer their fees to bring the project to life.
We're asking the community right around the world to support the making of the film by providing small donations on the website www.indiegogo.com/drownthemovie . In return for contributions we're offering fantastic rewards – and they're great value. Everything from a script consultation with Stephen Davis to set-visits to exclusive DVDs and blu-rays of the film.
æ: How will this be different from a conventionally funded film?
Drown will be different to other films in a number of ways. Because we do not have huge financing and investors to satisfy, we can make the film exactly as we want to make it – without ever needing to compromise for commercial reasons. That's a huge benefit when dealing with such important and boundary-pushing material. Because the crew are deferring their wages, everyone is here because they believe passionately in the story and the film – which makes for an excellent vibe on set. Everyone is so passionate they will go above and beyond the call to realise this film in its pristine and pure form.
And finally, because we're not returning millions of dollars to investors we're able to completely control distribution and we're looking at using the internet to make sure our film – and its message – is seen by as many people on the planet as possible, regardless of the financial impact on our bottom line.
It's truly liberating to be able to work in this way. While we're not making any money, we're motivated by a shared desire to address a crucial issue and do our little bit to change the world for the better. But we need your support. Please become involved in the film by crowd-funding it at www.indiegogo.com/drownthemovie