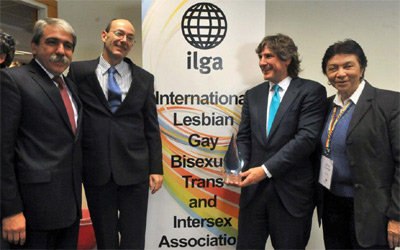 ILGA Co-Secretaries General Renato Sabbadini (second from left)
and Gloria Careaga-Perez (extreme right) with Vice President of
Argentina Amado Boudou (second from right) and Senator Aníbal Fernández
at the opening ceremony of the ILGA conference. The pair collected the
Go Visible Award on behalf of Argentina President Cristina Fernández de
Kirchner. The GO Visible Award recognises an organisation or individual
for promoting LGBTI rights; empowering LGBTI people; and supporting
cooperation and alliances with other organisations in hostile places.
Photo: ILGA World Facebook
Gloria Careaga said that the ILGA World Conference in Stockholm, December, 2012, "marks a new era for ILGA." Renato Sabbadini said the "best conference of ILGA ever." No one at the conference would have disagreed. No one!
This marks a dramatic change from the two preceeding conferences in Sao Paulo and Vienna, both hastily organised after previous host organisations (Rio and Quebec City) failed to deliver.
WHAT WAS SPECIAL ABOUT STOCKHOLM?
1. MONEY. The organisers delivered "scholarships" to about half of the delegates, covering registration and all expenses. The big donor was the Swedish International Development Agency, but money also came from the Arcus Foundation, Hivos (of the Netherlands), LLH (Norway) and seven others. As a result participants were more varied than ever before, in particular with strong representation from Africa. Asia, as usual, was under represented, but with an increased number from the Middle East (which is included in "Asia" but may shift in the future to a grouping "Middle East and North Africa). There were some tensions between funders and funded, with disconfort by some of funders priorities and control. Such tension needs to be aired.
2. NUMBERS
There were 450 representatives from over 100 countries. Many more than ever before. ILGA membership has increased 25% since the 2010 Sao Paulo conference, bringing it up to 1005. Most members are activist organisations, but there are also some individuals (and non-voting associates like the City of Amsterdam),
3. BIG NAMES
Ban Ki-moon, Secretary General of the United Nations sent a specific message to the Stockholm conference. In part, he said: "The UN stands with you as you highlight ongoing abuses, dispel prejudice and insist on nothing short of freedom and equality for all."
The Prime Minister of Sweden (and chairman of the liberal conservative Moderate Party) Fredrik Reinfeldt came to an opening ceremony and declared "all people are unique" and all are entitled to respect. No head of government had ever been at any kind of ILGA meeting in the past.
The Secretary General of Amnesty International Salil Shetty (an organisation with more than three million members, as he noted) gave a detail speech in support of LGBT rights.
The Vice-President of Argentina Amado Boudou made the trip to Stockholm to receive an ILGA award on behalf of President Cristina Fernández de Kirchner, whose government has delivered marriage, adoption and the world`s leading gender recognition law.
Backing up our high-level friends and supporters, Stockholm hosted a high-class reception and dinner in the fabulous Gold Room in the castle-like city hall. Eight million gold mosaic tiles gave the room a lavish glow.
CONFERENCE DYNAMICS
The ILGA conferences have increasingly come to follow patterns of large academic or professional organisations. Less intimate. More content.
At Stockholm there were nine plenaries. Some were on topics (such as UN developments), but most had an organisational character (approval of new members, reports, nominations, voting). Most of the information, debate and analysis came in workshops. There were eight sets of workshops held over the five days of the conference. Most sets had eight separate workshops. A total of 58 workshops. You could only attend about one in seven. Some were excellent. Others were not. The result was a conference that is a very different experience for different individual delegates.
Quality control over the workshops was attempted, with advance approval required. But no guarantees of actual product are possible. Even plenaries were of uneven quality. None of the plenaries at Stockholm met the gold standard of the panels on the UN and on Islam at the Geneva ILGA World Conference six years ago, events so good that they be equalled at some time, but never topped.
A second dynamic is seeing how ILGA changes. So many bright, fresh new people! Of previous secretaries general, only Rosanna Flamer Caldera was there. Many other old hands were absent. I know one, from the UK, who had been at the previous ILGA World Conference in Stockholm in about 1990. I date from 1993 in Paris (a badly organised conference, but as my first ILGA conference a wonderful experience).
But no nostalga. ILGA World now has a small but competent staff at the office in Brussels, a communications program with three regional e-newsletters, and it hosts a number of initiatives. There are "secretariats" on women and trans, and, in process, on intersex and bisexuals. Some of these work well. Some don't. The trans secretariat barely functioned from Sao Paulo to Stockholm. These "secretariats" are given to individual member organizations, who may not have the resources to do much with them. The ILGA world map of "state sponsored homophobia" is a continuing annual success, and work is underway (without adequate resources) on a parallel overview of trans rights around the world.
Good chances that the "new era" for ILGA, forged in snowy Stockholm, will continue with the next world conference in 2014 in Mexico City. No exact dates yet. The next ILGA Asia regional conference will be held 29-31 March in Bangkok, Thailand.
Douglas Sanders is a retired Canadian law professor, living in Bangkok. He can be contacted at sanders_gwb@yahoo.ca.