The video, which was filmed by a member of the press on Saturday night after the Mardi Gras parade and posted on YouTube, shows a young man being forced down heavily by a police officer who stood with one foot on his back for at least 20 seconds. It shows 18-year-old Jamie Jackson, who had been handcuffed, repeatedly asking "What did I do wrong?" but received no reply. He has been charged with assaulting police and resisting arrest, reported Sky News.


18-year-old Jamie Jackson. Photos: Facebook, video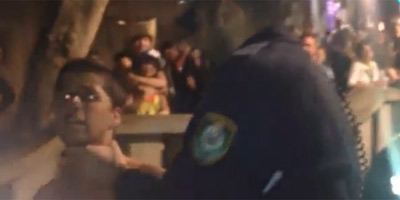 The video has attracted over 250,000 views as at 1pm (+8GMT), Wednesday.
It's not clear from the footage what prompted Jackson's arrest but the police have been quoted in local reports saying that he used offensive language, assaulted a police officer and resisted arrest. The video however does not appear to show him resisting arrest, although the initial encounter between the young man and officers was not shown in the film.
The incident occurred at the intersection of Reilly Street and Oxford Street, Surry Hills in sight of dozens of onlookers, many of whom screaming at the police officer to stop.
A witness was heard on the video saying: "This [officer] here grabbed his throat and smashed his skull on the pavement" while another woman said: "They just slammed his head; there's blood all over the ground."
The police officer had attempted to ask the person who was filming to stop but was told by himself and onlookers that it's legal to film police officers in public.
In another video released by Sydney MP Alex Greenwich and posted on The Australian newspaper's website, it showed two police officers wrestling Jackson to the ground.
The video has prompted calls for an independent investigation into the conduct of police at the Mardi Gras event.
The co-chair of the Mardi Gras, Peter Urmson, was quoted as saying by the UK's Guardian newspaper that the footage was "disgusting" and welcomed the investigation. "Mardi Gras was born out of police brutality 35 years ago and it's ironic that that night was celebration how far we've come as a community working together with other parts of the community. I now kind of wonder, how far have we really come?" he said. "Certainly the gay and lesbian community is up in arms about this."
A second man has come forward to allege he was a victim of excessive police force during Saturday event. Bryn Hutchinson, 32, a social worker from Sydney, claims he was thrown to the ground by officers at the corner of Oxford and Crown streets in Darlinghurst as he attended the annual gay and lesbian event with friends.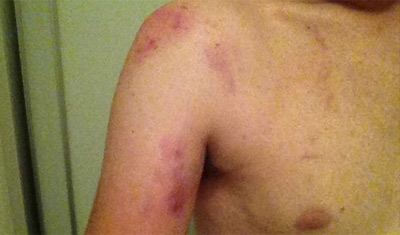 A picture of injuries sustained by Bryn Hutchinson, who has been charged
with assaulting police. Photo: Sydney Morning Herald
He said police asked him not to cross the road at about 11pm but he did, and attempted to "negotiate" with officers because in his view there was no vehicle traffic on the street. "It turned into a physical thing very quickly," Hutchison said. "I was pushed onto the ground, knelt on and kicked several times. "There's not any question it was an excessive use of force."
He said he was placed into a police car and given a court attendance notice, charged with assaulting police.
A protest is being planned this Friday at Taylor Square from 6pm to march to the Surry Hills Police Station to demand justice for the two incidents. For details, see the Facebook event page.