If you're a Starbucks shareholder who opposes same-sex marriage, Starbucks CEO Howard Schultz has a clear message for you: "You can sell your shares in Starbucks and buy shares in another company. Thank you very much."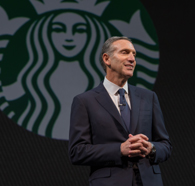 Starbucks CEO Howard Schultz
Schultz told a shareholder, Tom Strobhar, who complained at the annual investor meeting in Seattle last Wednesday that the company's support of same-sex marriage had resulted in a boycott.
Strobhar said at the meeting, "In the first full quarter after this boycott was announced, our sales and our earnings, shall we say politely, were a bit disappointing.
The Huffington Post had identified at the founder of the anti-gay marriage Corporate Morality Action Center.
Last year, the National Organization for Marriage launched a boycott of the coffee chain after Starbucks announced its support for Washington's state's referendum backing same-sex marriage.
Schultz responded saying: "Not every decision is an economic decision. Despite the fact that you recite statistics that are narrow in time, we did provide a 38% shareholder return over the last year. I don't know how many things you invest in, but I would suspect not many things, companies, products, investments have returned 38% over the last 12 months. Having said that, it is not an economic decision to me. The lens in which we are making that decision is through the lens of our people. We employ over 200,000 people in this company, and we want to embrace diversity. Of all kinds."
The audience erupted in applause.
"If you feel, respectfully, that you can get a higher return than the 38% you got last year, it's a free country. You can sell your shares in Starbucks and buy shares in another company. Thank you very much." Schultz said to greater applause.
His response has since been widely reported in the media.
Jena McGregor, a columnist for The Washington Post noted in her commentary: "Now of course, in reality, Schultz's support of same-sex marriage is very much about dollars and cents — or at least about brand value and employee retention, which both affect the bottom line. For many big companies, the fear of losing out on talented employees or loyal customers who support gay rights is even greater than the fear of losing out on the dwindling number of those who don't."
"That's especially the case for a company like Starbucks, with its coffeehouse roots, its urban customer base and its touchy-feely talk about employees (it calls them "partners" and offers benefits other fast-food restaurants do not). And Schultz is not alone in voicing his support for same-sex marriage; CEOs including Goldman Sachs' Lloyd Blankfein, Amazon's Jeff Bezos and Microsoft's Steve Ballmer have as well."
The U.S. Supreme Court will hear arguments on two same-sex marriage cases this week.