First held in February 2006, the annual festival has been organised by the Phuket Loves You (PLU) group since 2012.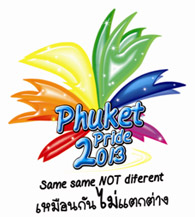 The organising committee comprises Thais, expats and LGBT-friendly businesses with a "common goal of building a stronger sense of community for all the LGBT (Lesbian, Gay, Bisexual & Transgender) people living in Phuket," according to its website. Organisers say that the event is recognised and supported by the Municipality of Patong.
The theme for this year's Pride week is "Same same NOT different'".
The press release explains: "Men are different from women and children are different from adults. But we are all human beings and all deserve to have the same rights and be respected in the same way. Therefore, we are 'Same same NOT different'.
"Homophobia is rooted in the belief that Gay (LGBT) people are 'different', 'alien' or 'perverse'. This fear of being 'different' and being seen as an outcast by society adds to the paranoia and even suicide of especially young people in accepting their sexuality and coming out to society."
The festival hopes to raise money for LGBT & HIV Charities in Phuket. Two of their chosen charities is the Sabai Dee clinic at Patong Hospital which provides blood tests, counselling services and an anonymous HIV clinic for transgender and homosexual people; and the Life home project which helps to improve the situation of those in Phuket, primarily women, who are HIV positive and their children (who may be HIV positive themselves) as well as other disadvantaged children.
The festival last year raised 300,000 baht (US$10,000) and they hope to raise 1,000,000 baht for charity this year.
For the full schedule of events, visit http://www.phuket-pride.org/blog/category/phuket-pride