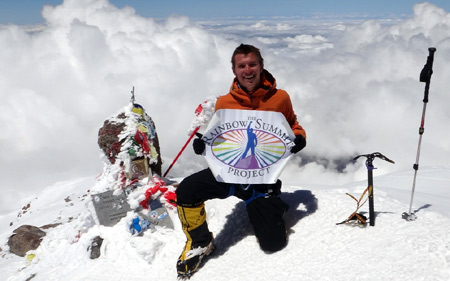 Cason Crane at Vinson Massif (Antarctica)
Cason Crane is just 20 years old and he has already scaled five of the world's seven highest peaks and could well be the first openly gay person to complete the Seven Summits not just for himself but to raise both awareness and funds for the Trevor Project. The non-profit group provides crisis intervention and suicide prevention services to lesbian, gay, bisexual, transgender and questioning (LGBTQ) youth in the US. Since the start of his Rainbow Summits Project, Cason has raised US$100,000 for the Trevor Project.
The avid runner, swimmer, and triathlete who came out as gay in his teens said he was devastated when one of his friends and classmates in high school committed suicide and was shocked when he learnt that suicide is the third leading cause of death for 15- to 24-year-olds. He was also impacted by the death of Tyler Clementi, a gay teenager from New Jersey who had been bullied
"His death opened my eyes to the growing problem of youth suicide, specifically in the LGBTQ community. I learned that LGB youth are four times more likely than their straight peers to attempt suicide. Underlying these tragedies were my own personal experiences -- being teased and called names, getting shunned in the locker room -- but I was fortunate to have the loving support of my family and friends, unlike so many others." Cason wrote in a column published in the Huffington Post.
He will be making a stop in Singapore enroute to Nepal to climb his second-last mountain, Everest in April, and is slated to meet young LGBTQ people at a Young Out Here event on Friday, March 29 at 3pm. The event is open to all LGBTQ youths age 25 and below. Sign up here.
Since climbing Mt. Kilimanjaro in Tanzania (Africa) with his mother in 2008 at age 15, Cason has climbed Cerro Aconcagua in Argentina (South America), Mount Elbrus in Russia (Europe), Vinson Massif (Antarctica); and Carstensz Pyramid in New Guinea (Australasia). He expects to climb his last mountain on the list, Alaska's Mount McKinley, later this year. And when he does that, he will be the fifth youngest and one of about 350 people to conquer all seven peaks.
He writes on his website rainbowsummits.org about climbing Everest, the tallest mountain in the world: "I'm busy getting ready for what I think will be the biggest challenge of all. As part of this climb, I will be carrying prayer flags to the summit of Mt. Everest, with dedications on them to people who have committed suicide or been the victim of harassment, bullying, homophobia or intolerance. I welcome anyone who would like to dedicate a prayer flag to go to rainbowsummits.org/get-involved and let me know how you would like the dedication to read. I will transcribe it onto a traditional Tibetan prayer flag and take it to the top of the world with me.
"I hope my adventure will serve as an inspiration to young people like me to be true to who they are and to know that they are not alone. It's also my hope that calling attention to this rampant problem will help kids' parents, families and friends be there for the young people in their lives as they discover and embrace who they are."
---
The following interview was provided by Young Out Here, a LGBTQ community youth group in Singapore: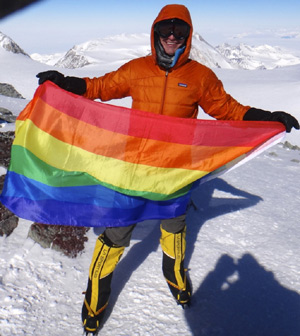 Cason Crane at Mount Elbrus in Russia (Europe)
Introduce Cason Crane in ONE sentence.
Cason: My name is Cason Crane and I'm a 20-year-old adventurer, mountain climber, and LGBTQ rights activist who is currently raising awareness for suicide prevention in the LGBTQ community by climbing the highest mountain on each continent.
What were your motivations behind starting 'Rainbow Summits'?
Cason: I wanted to use my personal initiative to climb the "Seven Summits" as a platform to raise awareness for issues facing LGBTQ youth. I was personally passionate about the issue of suicide prevention in the LGBTQ community, and so I recognized this opportunity to try to give back while also pursuing a lifelong dream of mine.
Climbing & scaling mountains aren't easy and not to mention dangerous. What got you started?
Cason: I got started mountain climbing when I was 15. My mother and I decided to pursue a fun challenge, and so we went and climbed Mt. Kilimanjaro, the highest mountain in Africa. Honestly, the moment I reached the summit of Kili, I was hooked. Something about the combination of an individual challenge, the beauty of the outdoors, and the internal reflection you get from being off the grid make mountain climbing a personal passion for me. I haven't looked back since!
What made you decide to raise money for 'The Trevor Project'?
Cason: I was motivated to raise money and awareness for The Trevor Project by the tragic death of a good friend of mine, and of Tyler Clementi, who was a gay student at Rutgers, a university in my home state of New Jersey. After Charlotte and Tyler's deaths, I knew that I needed to try to make a difference on this issue, and The Trevor Project was (and is) the only organization providing comprehensive suicide prevention and crisis intervention services to LGBTQ youth in the United States.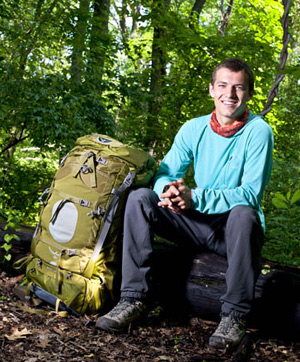 What obstacles have you encountered thus far?
Cason: I have encountered many obstacles... far too many to recount here. One of the things that make mountaineering such a compelling sport is that it requires more than just physical exertion. There is that, obviously, but it is also hugely mental, and requires a lot of preparation, planning, and logistics. Basically, that means you've got to be on your toes all the time and that you're faced with all sorts of difference challenges, even at times when you don't expect them.
What's your greatest challenge yet?
Cason: I would say that the most significant challenge I have faced so far was my period of internal reflection after I was unable to summit Denali (Mt. McKinley, the highest mountain in North America), last summer due to weather conditions. I had hoped that it would be my fourth of the Seven Summits, and I had to ask myself a lot of tough questions after I didn't make the top. "Could I complete my challenge?" "Do I have the mental and physical strength to keep going?" "What would this mean for my project and my fundraising?" were just a few of the many questions floating around in my head. In the end, I realized that even though I hadn't summited Denali -- even if I never was able to -- it would mean a lot more for me to keep going despite that setback because in reality it doesn't matter where on the mountain you end up as long as you know you've given it your all and tried your best.
What have you taken away from it so far?
Cason: I've taken away so many things... I mean to think of how much I've learned in the past year about the world, mountain climbing, public speaking, fundraising... it really runs the gamut. I would say my top take-away from the project is that I have learned that anyone and everyone can and SHOULD be an activist for some issue that they are passionate about. I am passionate about LGBTQ issues, and I am trying to do what I can to make positive change happen by contributing my unique interests and talents. If we all do this, the world will be a much better and happier planet.
What are you looking forward to here in Singapore?
Cason: I'm most looking forward to meeting and connecting with other young LGBTQ people in Singapore and talking about how they can climb their own "Everest," be it literal or metaphorical!
Cason will be sharing his story this Friday, 29th Mar 2013, 3pm @ YOH's 'Climb Every Mountain' event. This event is open to all LGBTQ youths age 25 & below. Sign up here.