Despite violent street protests and opposition from conservative lawmakers, the French parliament on Tuesday voted to legalise same-sex marriage.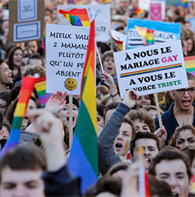 In a 331-to-225 final vote, the country's lower house National Assembly, where President Francois Hollande's Socialist party has an absolute majority, approved the marriage bill, which would also give same-sex couples the right to adopt.
Euronews reports:
Self-congratulatory applause erupted in the National Assembly where President Francois Hollande's Socialists have an absolute majority. The bill passed by 331 votes to 225 against.
Some in the public gallery had to be forcibly removed after making clear their opposition to the law.
The bill has triggered often violent street protests and sparked a rise in homophobic attacks. Many people now want the issue to be subject to a referendum.