It's a bill that stigmatises LGBT people and prohibit anyone from giving children any information about homosexuality. The bill won overwhelming approval on Tuesday in Russia's lower house of parliament voted 436-0 with one abstention.
The bill would create a nationwide ban on informing minors about so-called nontraditional sexual relations. Individuals may face fines of up to S$150 while organisations may be fined up to US$31,000, with foreigners also facing arrest and deportation.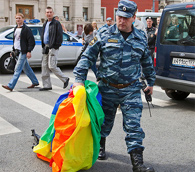 A Russian police officer taking away a gay pride flag at a recent protest.
The State Duma also passed a bill Tuesday stipulating that anyone found guilty of "insulting" the religious feelings of "believers" faces up to three years in prison.
The bills needs to be passed by the appointed upper house and signed into law by President Vladimir Putin who has already expressed his support for it. The bills are widely considered nearly guaranteed to become law.
UK's Independent reported: "The document now states that 'propaganda' of gay relationships includes, 'spreading information aimed at forming non- traditional sexual behaviour among children, suggesting this behaviour is attractive and making a false statement about the socially equal nature of traditional and non-traditional relationships'.
"Gay-rights rallies and gay-pride marches have been banned in Russia as a matter of policy and the former Moscow Mayor famously referred to gay rallies as 'a place for Satanists'. Surveys frequently show that many Russians feel gay people should be "treated" and there are almost no openly gay public figures."
"Russia is trying very hard to make discrimination look respectable by calling it 'tradition,' but whatever term is used in the bill, it remains discrimination and a violation of the basic human rights" of homosexuals, said Graeme Reid of Human Rights Watch. "It is cynical, and it is dangerous."