I remember when Alfian Sa'at published his first book of poems, One Fierce Hour, in 1998. Back then, he was just a 21-year-old medical student, but he'd already gained a reputation in our community of young writers as an unflinchingly intelligent, unabashedly political voice, who also happened to be glorious to read and as funny as hell to listen to. His gorgeously angry works like the anti-national anthem "Singapore You Are Not My Country" gave us a taste of free speech in a time when most of us were too damn scared to speak out.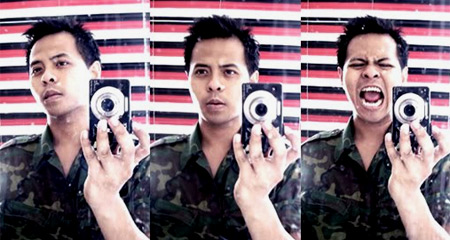 Alfian Sa'at, playwright. Photos: Facebook
In the fifteen years since then, the scope of Alfian's works has only grown. He's ditched his medical studies and become the Resident Playwright of Wild Rice, one the nation's coolest and most LGBT-supportive theatre companies. He's published and performed politically charged poems, short stories and plays, in English, Malay and (with a little help from friends) Mandarin, and has been staged as far afield as Germany and Finland.
He's also become a prominent voice online, where he airs his unfiltered thoughts on Singapore and Malaysia as a gay Malay intellectual. (He's earned a fair bit of anger out of this, even from fellow Facebookers in the gay Singaporean community. Notably, he's taken the country's populist LGBT rally Pink Dot to task for not being political enough.)
Fridae ran an interview with Alfian once back in 2005, but now's an opportune time to hear his voice again, since we're already in the midst of a festival of his plays. Wild Rice's In the Spotlight – Alfian Sa'at lasts from 3 to 20 July, and will feature two of his old plays: Dreamplay: Asian Boys Vol. I and The Optic Trilogy, plus a new piece, looking at the hot topic of immigration in Singapore: Cook a Pot of Curry. (There'll also be free staged readings of his 2011 hit, Cooling-Off Day on Fri 12 July, Sat 13 Jul, and Fri 19 July.)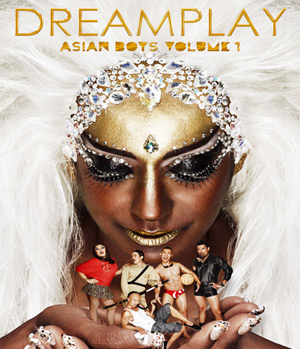 Photo: Wild Rice
Dreamplay: Asian Boys Vol. I is of particular interest, because it was one of Singapore's early gay plays, staged in the tiny black box space of The Necessary Stage in 2000, inspired by the work the Swedish playwright August Strindberg and the visions of its eccentric director Jeff Chen. First performed by Hossan Leong, Nora Samosir and a host of other familiar faces in the local theatre scene, it shocked and delighted us with its campy aesthetics and far-out premise.
It tells of a goddess, Agnes, who descends from the heavens, going on a journey through Singapore history to try and reform gay men. On the way, she meets hunky rickshaw pullers, homoerotic Japanese Occupation freedom fighters, and political detainees in G-strings. (I'm particularly eager to see this revival, as it features Kuala Lumpur theatre doyenne Jo Kukathas and dishy local stars Rodney Oliveiro, Caleb Goh, Koey Foo and Tan Shou Chen, plus Peter Sau from the original cast.)
Do also consider catching The Optic Trilogy, featuring the hunkalicious Brendon Fernandez and Nominated Member of Parliament for the Arts Janice Koh. This intimate 2001 work, which also includes gay characters, is often considered one of the most lyrical and moving examples of Alfian's writing.
Since Wild Rice is always eager to engender discussion with its plays, there'll also be events called the Art & Life Sessions on the topics raised by the plays. Sunday, 14 July, 5.30pm, will feature a panel discussion titled Chasing Elusive Rainbows on the progress and regression of the LGBT community. Speakers will include Pink Dot spokesperson Paerin Choa, law academic Lynette Chua, and social worker and author of I Will Survive Leow Yangfa.
For those of you who're unable to catch the festival, do consider picking up one of Alfian's books – his short story collection Malay Sketches, perhaps, or his gay-themed poetry collection The Invisible Manuscript, or else his gay-themed plays in Collected Plays Two – The Asian Boys Trilogy.
And if you're coming down to Singapore in two years' time, I'm betting that Wild Rice will be staging another In the Spotlight festival in 2015 – this time focusing on a lesbian playwright, like Ovidia Yu or Eleanor Wong.
æ: So, you're the In the Spotlight this month! How does it feel to be given a retrospective at the tender age of 35?
Alfian: I don't think it's a retrospective in the sense that it's supposed to be a 'summation of my career'. For me it's a festival where some of my earlier plays are given the Wild Rice and Ivan Heng treatment, and where I get a chance to work on a new play with Glen Goei, someone I've been wanting to collaborate with for a while. Another way of looking at it is that some playwrights stage three of their plays in a year. This festival's just a way of staging them simultaneously! How's all that for self-effacement?
æ: How did you start writing Asian Boys Vol. I?
Alfian: This was back in 2000, and I remember the director Jeff Chen passing me a copy of August Strindberg's A Dream Play, asking me if I'd like to take a crack at adapting it. I skimmed through it, and I found myself fascinated with its dream logic, while at the same time amused at the typical Scandinavian angst and despair crying out from the pages. So I took out some of the elements in the play, like the story of a divine being who wants to save mankind, and gave it a queer spin. The original title was 'Dreamplay' but Jeff wanted something more 'sexy'. He suggested 'Cock Show' and 'Dick Flick'. I thought since he was going down the porno route, then why not something like 'Asian Boys Vol. 1'? It also had this Orientalist ring to it which I could subvert.
æ: Any cool memories of that production?
Alfian: I'm not sure if this is a 'cool' memory, but I learnt something very important during that play. And that was not to give notes to the actors. Apparently what happened was that because I gave notes to them, some of them decided not to follow the directors' instructions and used 'the playwright said something else' as a form of justification. So to prevent this kind of 'double directing' from happening I ended up getting locked out of the rehearsal room. Ever since then I'm very cautious about giving notes to actors; I'll always relay my feedback through the director.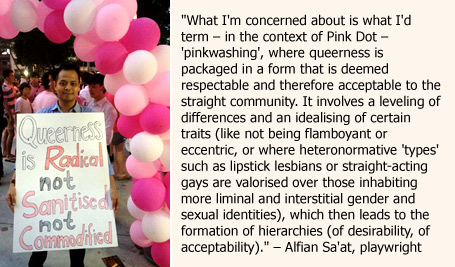 æ: How do you feel about Wild Rice's decision to revive this play? Do you feel it's still relevant, 13 years after it was first written?
Alfian: I think it's still a timely play, and its ultimate message about self-acceptance is as relevant as ever. Also, we toy around with many genres in the play – from high camp to heart-tugging melodrama to iconographic kitsch, and these genres don't easily go out of fashion.
æ: Regarding the restagings of all three of your plays (and a half, counting the reading of Cooling Off Day) – what are you excited about/moved by?
Alfian: I'm actually excited about all of them! I find myself very torn on each night of the performances, because I can't decide which one I want to watch! I guess I'm very touched by Ivan wanting to restage my early plays, and to not skimp at all on the production values. They're staged in black boxes to small audiences, but you'll find elaborate lighting, rich soundscapes, lavish costumes and multimedia. Ivan would have wanted a smoke machine as well, if not for the fact that in the black box it would set off the fire alarm! As for Cook A Pot Of Curry, I was excited to have finally worked with Glen Goei, a director I have long admired.
æ: Who are your inspirations?
Yasmin Ahmad, P. Ramlee, Saloma, Lat, Nurul Izzah Anwar, Jit Murad, Latiff Mohidin, Ahmad Zakii Anwar…
æ: You've expressed some criticism of the Pink Dot rally and the current state of gay activism in Singapore recently. Want to elaborate?
Alfian: What I'm concerned about is what I'd term – in the context of Pink Dot – 'pinkwashing', where queerness is packaged in a form that is deemed respectable and therefore acceptable to the straight community. It involves a leveling of differences and an idealising of certain traits (like not being flamboyant or eccentric, or where heteronormative 'types' such as lipstick lesbians or straight-acting gays are valorised over those inhabiting more liminal and interstitial gender and sexual identities), which then leads to the formation of hierarchies (of desirability, of acceptability). I've always thought of queerness as something inherently radical and rebellious, a celebration of 'otherness'. I also think that queerness should not reproduce the structures of inequality that already exists in 'mainstream' society, which is why I'm worried about a queer movement that is spearheaded by a gay elite consisting of Chinese, English-speaking, middle-class males.
In the Spotlight – Alfian Sa'at runs from 3 to 20 July 2013 at LaSalle College of the Arts. Dreamplay: Asian Boys Vol. 1 will be staged throughout this run in the Flexible Performance Space, Tue to Sun at 8pm with matinees on Sat and Sun. Tickets are available via SISTIC. More information at http://www.wildrice.com.sg. Alfian Sa'at's books may be purchased at http://booksactually.bigcartel.com.
Ng Yi-Sheng is a poet and playwright, and winner of the Singapore Literature Prize in 2008 for his poetry anthology Last Boy.