It is a case that has brought transgender and same-sex marriage issues back into the spotlight in Taiwan as the government is being accused of human rights violations after the Ministry of the Interior (MOI) declared the marriage of a transgender couple to be illegitimate although at the time of marriage they were legally male and female.
Born male, 29-year-old Jiyi Wu began hormone treatment in 2007 and completed male-to-female sex reassignment surgery last July. While still legally male, she applied to marry longtime partner Abbygail Wu (吳伊婷), a transgender person who had already changed her legal status from man to woman.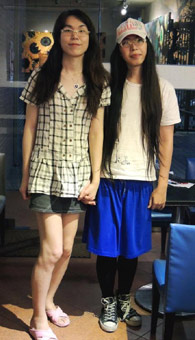 The pair were married in October 2012. In their application, Jiyi Wu applied as the "husband" in the couple, while Abbygail Wu did so as the "wife."
The Household Registration Office (戶政事務所) approved the application for a union that was between a man and a woman as the respective parties were legally male and female at the time.
According to the Taipei Times, the Wanhua District Household Registration Office, under authorisation by the Ministry of the Interior (MOI), issued a notice to the pair declaring their marriage illegitimate.
A MOI official Kao Chiu-feng (高秋鳳) said: "In this case, both parties concerned had completed their sexual reassignment surgery from male to female before registering their marriage."
"Because both were women at the time of marriage, conditions do not fulfill the Civil Code (民法) stipulation that marriage is between a man and a woman," Kao wrote.
But to the couple, theirs is not a marriage between a man and a woman, or a woman and a woman.
"We aren't lesbians," said 27-year-old Abbygail Wu, a software engineer. "We are a genderqueer person married to another genderqueer person," said Jiyi Wu.
The case came to light after Jiyi Wu applied for legal status as a woman as the Taipei City Household Registration Office noticed some "irregularities".
The couple has called on the government to reverse its "illegal" decision and are threatening to take legal action by July 23 if the annulment is upheld.
They say they will ask the Supreme Court to explain why a legally recognized marriage can be "illegally revoked" by the government — a decision that could very well be a precedent in Taiwan.
"In the eyes of government officials, gender is far more important than the value of marriage and family," Jiyi Wu told reporters last week.
According to the Times, the MOI is rethinking its policy on gender recognition and is midway through a study of how other countries handle the issue, said Su Chih-meng (蘇誌盟), director of Population Policy at the MOI's Department of Household Registration (戶政司人口政策). Decisions will be announced in November.
The paper noted that in over 10 countries, such as the UK, medical surgery is not a requirement for a person to be legally recognised to be of a different gender. Argentina, in an unprecedented move, has removed all requirements for a legal gender change, so that a person can change gender purely on request.