The Beijing LGBT Center turned five in February this year. The non-profit community-based organisation was set up in 2008 as a collaborative effort by several local LGBT NGOs which pooled their funds. In the video, Xu Bin, a boardmember of the centre, recalled how the idea for the centre came about in 2006 when there were already gay bars in the city but the community had no activity or resource centre unlike in Taiwan, Europe and the United States. Today the centre provides mental health services, group and individual therapy, peer-mentorship programs for college-aged LGBT youth, organises a variety of advocacy programs as well as social activities.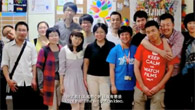 Staff and volunteers at the Beijing LGBT Center
The Center is open to the public on Saturdays 10am – 9pm, and Sunday 10am – 5pm. Closed Mondays and Tuesdays; to visit the Center Wednesday - Friday outside activity times, please make an appointment. Tel:010-64466970 Email: bjlgbt@gmail.com. Beijing LGBT Center Facebook page.