Burma's LGBT Rights Network has condemned the alleged torture of gay and transgender citizens by police in Myanmar, the second-largest city located 700km north of the capital city of Yangon. The case is being widely reported by local and international news outlets following a press conference on July 14 organised by gay rights groups.
On the nights of 6 and 7 July 2013, 12 gay and transgender people were arrested along the east and southeast areas of the Mandalay moat and subjected to verbal, physical, and sexual abuse by police officials while being detained.
The group is expected to deliver their complaint to the Myanmar National Human Rights Commission tomorrow before filing a lawsuit next week, Aung Myo Min, an advisor to the Myanmar LGBT Rights Network told Fridae.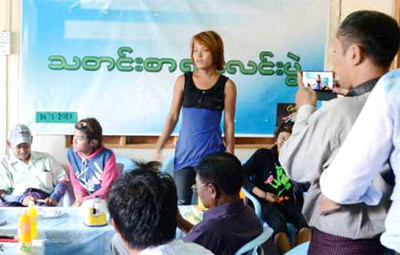 A transgender woman who was arrested spoke to journalists
at a press conference held in Mandalay on July 14.
According to a statement by the Myanmar LGBT Rights Network, the 12 detainees were held in custody for several hours at the Mandalay Division police station without charge and be subjected to verbal and physical abuse including being hit by police batons and subjected to homophobic slurs and violent threats.
One detainee, a 35-year old make-up artist, was quoted as saying: "Police officers beat us and kicked us. They forced those of us dressed like women to take off our clothes in front of the others, and made of fun of us. We had to flaunt our breasts and walk as if we were performing in a model show. They kept making jokes about us. We were humiliated."
According to media reports, although many of those detained are later being released without charges, others were charged under, the 1945 Police Act, section 35(c), which stipulates that, "Any person found between sunset and sunrise having his face covered or otherwise disguised, who is unable to give a satisfactory account himself… may be taken into custody by any police officer without a warrant, and shall be punishable on conviction with imprisonment for a term which may extend to three months."
The Myanmar LGBT Rights Network say the police's actions last weekend in Mandalay "represent a violation of the victims' human rights and a severe and alarming abuse of their authority, particularly in their role as supposed protectors of citizens' rights and safety."
The police's actions were also in "violation of clause 347 and clause 353 of the 2008 Myanmar Constitution, which state respectively that the Union shall guarantee any person to enjoy equal rights before the law and shall equally provide legal protection; and nothing shall, except in accord with existing laws, be detrimental to the life and personal freedom of any person."
According to The Irrawaddy, the police have denied any wrongdoing and maintain that the officers had handled their law enforcement obligations professionally.
"We were just carrying out our duties. Since they are men, we must not let them go into men's cells with wigs, bras, condoms and women's attire. So we had to take them all off. We have much evidence to prove this, however, I have nothing to say about being accused of abusing them," Soe Nyein, a Mandalay Division police officer, was quoted as saying.
In a statement, the Asian Human Rights Commission condemned the alleged torture of gay and transgender people by police in Myanmar. The Hong Kong-based group said it "strongly supports the initiative to lodge complaints" and urged the legislature to "amend the Police Act, section 30(c) and the equivalent section in the Rangoon Police Act, section 30D, so that the police do not have ambiguous and draconian authority with which to detain, abuse and extract money from anyone of their choosing who just happens to be out after dark."