The following is a statement issued by one of the co-organisers Jolovan Wham on Aug 30, 2013:
Officials of the Russian Embassy in Singapore have refused to accept a petition signed by 200 members of the LGBT community and their allies when four activists visited their premises on Friday morning, 11am Singapore time. Instead, the embassy called the police and the activists were interviewed for almost an hour before they left the scene.
The petition was signed at an event last Saturday (24 August), 'To Russia with Love', held at Hong Lim Park as one of a series of activities organised by Indignation, Singapore's annual LGBT pride festival.
'To Russia with Love' was organised in response to the Russian parliament's adoption of legislation banning the dissemination of information on "non-traditional" sexuality. The Russian government claims that the law will protect children and young people from information and propaganda that are harmful to their well-being and development. There has also been an increase in the number of violent incidents, assaults, harassment and bullying of Russian LGBT people and their allies since the passing of this law. At least two people were reported to have died as a result of homophobic attacks.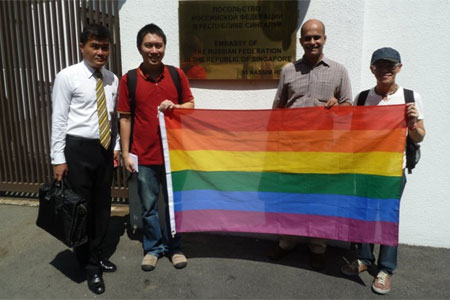 From left: Zan Thang, Jolovan Wham, Vincent Wijeysingha and Leow Yangfa
outside the Russian Embassy in Singapore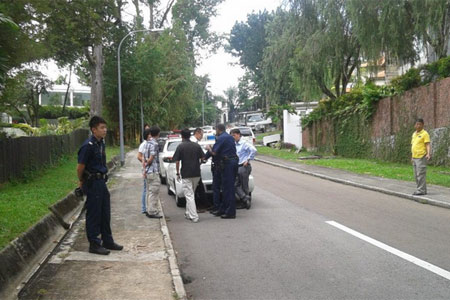 According to one of the activists present, 9 officers in uniform and civilian
clothing can be seen in this photo while another 4 uniformed officers had
already gone inside the embassy. Photos by Jolovan Wham.
Vincent Wijeysingha, who was the first politician in Singapore to come out as gay said: "This small act will not change the mind of the Russian government. But it should be left in no doubt that people the world over hold it in contempt."
Russia will host the Winter Olympics next year and its government has banned demonstrations and rallies in the city of Sochi where the games will be held, in a move that was denounced by rights activists.
Last week, an email was sent to the Russian Ambassador requesting a meeting to deliver the petition. The Head of the Consular Section, Bulat Dondukov, replied with this message:
The Embassy has received and considered your request for a meeting with an Embassyofficial with the purpose of submitting a petition from Singapore's LGBT community.
We believe that your protest is prompted by gross misconception and is ill-advised. You have misconstrued developments in Russia.
First of all, we want to remind that discrimination of any minority is legally prohibited inRussia by the Constitution. Unlike the former Soviet Union homosexual behaviour is not punishable by the Criminal Code. The recently adopted law has one well-defied purpose – to ban promotion of homosexuality among minors, but not "promotion of homosexuality", as you claim. The law prohibits promotion in aggressive forms of non-traditional sexual practices among minors.
Law enforcement officers now have the right to detain persons who violate the law intentionally (for example, by conducting public actions near schools and other children institutions). And last, but not least: violation of this law is an administrative, not criminal, offence.
In a joint statement, the four activists said: "We have been pressing the bell outside the embassy for the last thirty minutes and obviously nobody is coming out to receive us even though they have just let the newspaper man in. So clearly, they are ignoring us which is rather telling, because Putin appears to be a tough man in his own country but his representatives abroad don't even have the courage to come out to accept nothing more dangerous than a letter. So, we will leave the letter here and go away, but we would like to tell our LGBT friends in Russia from here in Singapore that we support you, and this is done in friendship across the many miles."
An account of the event with pictures can be accessed here: http://iwillsurvivesg.wordpress.com/2013/08/30/would-we-survive-in-russia
A video documenting the delivery of the petition can be accessed here: