Hong Kong's gay community has a new ambassador and he's Michael Morrill, a 35-year-old American and Hong Kong resident who teaches English to schoolchildren, and has extensive experience in volunteering from Green rooftop gardening and poverty reduction, according to a press release.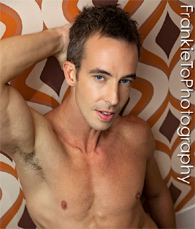 Mr Gay Hong Kong 2013: Michael Morrill
He beat four other finalists to win the honour to represent Hong Kong at the 2014 Mr Gay World finals in Rome, Italy.
As the winner, he will take stewardship of the Tongzhi Tsai (Junior Tongzhi) campaign which aims to address homophobic bullying in schools. Morrill, who is himself HIV-positive, will also become become a Red Ribbons Ambassador for AIDS Concern, and promote HIV/AIDS awareness and prevention.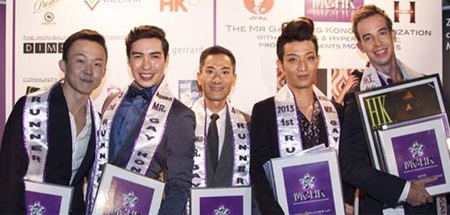 Photos: Mr Gay Hong Kong Facebook page. Above (from left):
Tommy Leung, Anthony Pura, Edward Chao, Ernest Kam and Michael Morrill
James Gannaban, executive producer of Mr Gay Hong Kong, told Fridae that Morrill's nationality is a non-issue. "He has dedicated almost a third of his life helping to educate our youth. He campaigned on a powerful platform, raising awareness about the plight of, and the social inequalities faced by, people living with HIV – being one, himself. We have every confidence in his ability to represent Hong Kong well."
Last year's Mr Gay Hong Kong winner Benjie Caraig, who went on to win the first runner-up prize at the Mr Gay World 2013 in Antwerp, Belgium in August, is Filipino while Rick Twombley, the first Mr Gay Hong Kong winner in 2009, is also American. To participate in the contest, one must be a self-professed gay man, above 18 years of age and hold a valid Hong Kong ID card.
Mr Gay Hong Kong is held in conjunction with Pink Season which spans over two months from September 12 to November 10, 2013.
The full list of honorees:
MR POPULARITY: Tommy Leung
BEST IN SWIMWEAR: Tommy Leung
BEST IN FORMAL WEAR: Tommy Leung
BEST SPEAKER: Michael Morrill
4th Runner-up: Ernest Kam, 45
3rd Runner-up: Edward Chao, 33
2nd Runner-up: Anthony Pura, 27
1st Runner-up: Tommy Leung, 23