Tens of thousands of people rallied in Taiwan's capital city of Taipei on Saturday. The parade has been the largest of its kind in Asia for many years running with an estimated record of 65,000 people last year.
The theme this year is "Make LGBT Visible 2.0", an updated version of the theme of the first Taiwan LGBT Pride Parade in 2003.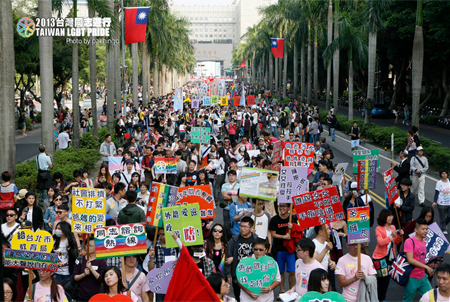 Photo: Taiwan LGBT Pride
The government announced on Friday that it has decided to begin reviewing a bill to amend the Civil Code in order to allow same-sex marriages. The bill, proposed by opposition Democratic Progressive Party lawmakers, will be discussed by the parliament's judiciary committee. Gay and lesbian groups in Taiwan have been urging the government for years to recognise same-sex unions.
The Reuters news agency reports that a gay marriage bill, has the support of 53 percent of the public, according to a recent opinion poll, though acceptance of a gay family member remains low.