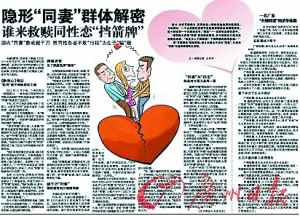 A report on unhappy marriages between gay men and women
by China's Guangzhou Daily in 2012.
A survey of nearly 150 women in China who have married or divorced gay or bisexual men, or who are in unmarried relationships with such men, say they have experienced emotional abuse from their husbands or partners.
An estimated 16 million women in China are married to homosexual men, according to renown Chinese sexologist Zhang Beichuan who also led the research team. Zhang estimates that there are some 40 million homosexuals in the country.
According to Xinhua News which reported on the results of the survey, it found that 70 percent of the women suffered long-term emotional abuse in their relationship — principally, their partner's lack of sexual interest in them — while 20 percent endured repeated beatings.
Zhang said that this is the first quantitative research on 'gay wives', who are known as tong qi, in China.
Some 80 percent of the women said they had been "seriously harmed" by their relationship and 90 percent sought legal protection and nearly 40 of the women reported symptoms of sexually transmitted diseases. And of the 30 who had been tested for HIV, two found themselves to be infected with the virus.
About 10 percent have made suicide attempts while 40 percent have experienced strong suicidal thoughts. Some 90 percent of the women developed symptoms of depression.
"'Gay wives' often painstakingly conceal their identity to avoid stigma; therefore, it was hard to obtain samples for our survey. As far as I know, this is the first quantitative research on 'gay wives' in the country," Zhang said, adding that similar foreign studies are also scarce.
The Xinhua report cited previous studies which suggested that nearly 90 percent of Chinese gay men are married to or intend to marry heterosexual women.
As Chinese society is said to be increasingly more tolerant of homosexuality, Zhang called for gay men not to be bound to traditional marriage values and for them to show greater awareness of equality to stop hurting women they are involved with.
The China Daily reported last year that tongqijiayuan.com, a non-profit website offering psychological consulting and legal assistance to wives of gay men, said that they have a thousand registered members who are women seeking support and help after finding out that their husbands are gay.