Wang Ann-Jiun and other gay rights supporters met with the Legislative Yuan President yesterday to seek help in updating the country's Civil Code to ensure marriage equality.

Wang Ann-Jiun is editor-in-chief of LEZS, a lesbian lifestyle magazine based in Taiwan. At the meeting Wang expressed, in front of the President, "I was born a lesbian, and in the days ahead, I will always stand up for gay rights and I will keep striving"

Wang had been praising Ellen Page's revelations last week and said that "It is even more necessary for gay celebrities to be brave and come out of the closet." She noted that although Taiwan is fairly accepting in terms of sexuality, they rarely see openly out public figures.

Yesterday, the group of activists spanned the political spectrum. LGBT campaigners have been increasingly exerting pressure on the Ma Ying-jieou administration. On Valentine's Day, they raised rainbow-colored Republic of China flags outside the Presidential Palace before holding a kiss-in in front of the Ministry of Justice.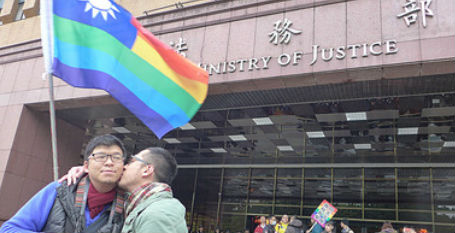 Although Taiwan's gay marriage and family bill passed its first reading in parliament late last year, but it still has to pass twice more. At the meeting, Legislative Yuan President Wang Jin-pyng said that he understood and respected their demand, but stopped short of showing any real support.