Health authorities last week reported 91 new HIV infections in the first quarter of 2007, up from 89 in the same period in 2006. Of those, 35 were in men who had had sex with other men, an increase from 29 new infections in the first quarter of 2006 and 19 in the same period of 2005.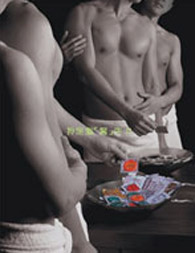 A poster promoting safe sex in Hong Kong
"If there is no intervention, HIV-infected men who have sex with men could hit 15,000 by 2020 in Hong Kong, that would be a prevalence of 30 percent," said Wong Ka-hing, a consultant with the Health Department.
"New HIV infections are increasing among men who have sex with men everywhere. Some of that is of a cross-border nature because of gay parties," said Loretta Wong, who heads Hong Kong's Aids Concern.
"Some are under the influence of drugs and they don't even remember if they used condoms. People tend to be less careful when they are overseas."
Of concern to Hong Kong health authorities and AIDS groups is one cluster of new infections which ballooned from 34 men last September to 53 by March while a smaller cluster in Hong Kong grew less rapidly, from 12 men last September to 13 by March.
"Genetically, viruses isolated from them are very similar. From genetic sequencing, we determined they were all together (passed the virus to one another)," Wong said.
He has also urged people with a history of unprotected sex to have HIV tests, saying the findings suggested "rapid local HIV transmission" among gay men in the city with a popualtion of seven million.
The government has yet to find out how the virus spread in the bigger cluster, or if there is a "super-spreader" involved.
Wong said cited greater numbers of homosexual men using the Internet seeking sex partners.
"We did a study recently and found that people are looking for sex partners on the Internet but we do not know if this cluster was formed that way," consultant Wong said, adding that the government was trying to promote safe sex via the Internet.
AIDS Concern's Wong cautioned against losing sight of other high-risk groups, such as heterosexual men with multiple sex partners, the commercial sex industry and intravenous drug users.
"There are many things we need to do to prevent this from escalating further," she said.
The detection of clusters of cases among gay men in Hong Kong follows regional findings that the proportion of gay men in Asia newly infected with HIV has risen sharply in recent years.
According to a TREAT Asia (Therapeutics Research, Education, and AIDS Training in Asia) report released in August 2006, high prevalence rates are observed in Thailand (28 percent), Nepal (four percent), Taiwan (eight percent), Vietnam (eight percent) and Cambodia (14 percent). MSM make up a substantial portion of new HIV infections in South Korea and Singapore.
Experts would consider any high-risk group as having a "concentrated epidemic" once prevalence reaches five percent.