Malaysia's The Star newspaper proclaimed in a headline on Jan 25: "LKY [Lee Kuan Yew] will accept it if grandchildren are gay".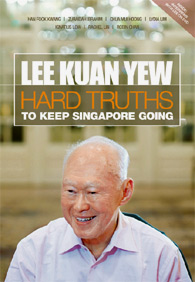 What Singapore's former Prime Minister and Minister Mentor actually said about the issue in his new book was: "That's life. They're born with that genetic code, that's that. [Former US Vice President] Dick Cheney didn't like gays but his daughter was born like that. He says, "I still love her, full stop." It's happened to his family. So on principle he's against it, but it's his daughter. Do you throw the daughter out? That's life. I mean none of my children is gay, but if they were, well that's that." He was responding to a question about how he would feel if one of his grandchildren were to come out to him.
While some might argue that his comments – if read carefully – sound less accepting than what the headline mentioned above would suggest, others unreservedly welcome his comments.
Rev. Oyoung Wenfeng, a Malaysia-born, New York-based ordained Christian minister, author and an openly gay man, told Fridae in an email: "I am so glad Lee Kuan Yew has said those things. It is interesting and uplifting to observe that an old man can also be open-minded and willing to learn."
He likened Lee's remarks on homosexuality to a coming out statement. "Of course he didn't come out as a gay man, but he came out as a gay friendly and reasonable person, and it has made some significant changes in people's view on homosexuality."
One such person is Rev. Oyoung's mother in Malaysia who phoned her son, who was already living in the United States at the time, when she found out that Lee was not anti-gay.
In 2007, Lee was quoted as saying in the International Herald Tribune that it's a "matter of time" before gays are recognised in Singapore, and that Singapore is behind China, Hong Kong and Taiwan in this aspect.
"My mom was really excited a couple years ago. To her, is an eye-opening experience, and it makes her feel better about herself, because she finally realises that she is not alone in thinking that being gay is ok and homosexuality is not wrong. It is important to have some smart people to come out to say something like that, to educate the public." Said Rev. Oyoung who is a columnist for Fridae's Chinese section, and doctoral candidate in both sociology and theology.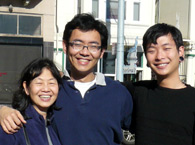 Dr Khoo Hoon Eng, a mother of two gay sons and co-founder of SAFE Singapore which was set up to provide support to friends, parents, and family members of LGBTQ persons, also hopes that MM Lee's comments will inspire others who have gay family members and friends to be just as openly accepting.
"As a mother of two gay sons, I am glad that MM Lee will continue to love his children/grandchildren even if they are gay. I think he has the right attitude. Being gay is not a choice or a 'lifestyle'. Why should gays be lesser members of our family because of who they love?"
Highlighting his statement "if two men or two women are that way, just leave them alone", Dr Khoo also called on the government to repeal Section 377A of the Penal Code that criminalises sexual relations between men.
"Why should my sons and other gay men in Singapore be criminalised for private acts between consenting adults that do not harm anyone else? Section 377A proclaims our gay sons, grandsons, brothers, nephews, uncles, relatives and friends to be criminals for a propensity that is not of their volition, is innocuous and part of their private lives.
"Section 377A also legitimises homophobia and therefore the government is also contributing to a situation where gay Singaporeans from a young age, suffer deep internalised oppression, where they think of themselves as sick, immoral, criminal, because of what they have been taught from society and discriminatory laws that criminalise their desires. Such oppression often results in the disintegration of family, compromised relationships, low self-esteem, stunted maturity and unavoidable deceitfulness of having to remain closeted." She told Fridae.
In his new book Lee Kuan Yew: Hard Truths To Keep Singapore Going, Lee also touched on several other gay issues including homosexuality not being a "lifestyle", whether Singaporeans are ready to accept a gay Member of Parliament and gay parenthood.
On same-sex couples adopting children, Lee said that a lesbian couple might be more suited than two men. "Who is going to bring them up? Two men looking after a child? Two women looking after a child, maybe. But I'm not so sure because it's not their own child. Unless you have artificial insemination and it's their own child, then you have a certain maternal instinct immediately aroused by the process of pregnancy. But two men adopting a boy or a girl, what's the point of it?" He said.
A growing body of research shows that same-sex couples are as effective parents as opposite-sex ones and children growing up in same-sex parental households do not necessarily have differences in self-esteem, gender identity, or emotional problems from children growing up in heterosexual parent homes.
Dr Khoo also pointed out that in his hesitation to support gay couples having children, MM Lee had "asked a rhetorical question about who would look after the kids."
"These days, even with heterosexual parents, the sexist stereotypes and assumptions of only the mother doing the work of looking after the kids are no longer true. The reality is that both parents who work outside the home should share the responsibilities and joys of raising children, rather than leaving it to only one parent."
A Straits Times report about Lee's views on homosexuality on Sunday also quoted a local lesbian couple Irene Oh, 27, and Olivia Tan, 30, who disagreed with Lee's views that adopting a child lessened the maternal bond. The couple is planning to raise children and open to adopting children.
Oh, a software developer and administrator of lesbian website Sayoni.com, said: "If MM Lee is right, then even heterosexual couples should not be allowed to adopt, because they, too, have no biological connection with the child. I think adoption is a great act of love, and there is no reason to expect adoptive parents to be any less caring."
Published by the Singapore Press Holdings (the parent company of The Straits Times), the book, which is in a question-and-answer format, records the 87-year-old minister's revelations of his personal life and views on domestic and international challenges.
To read MM Lee's comments on homosexuality from his book, click here.
We invite readers especially from Singapore and Malaysia to share their thoughts on MM Lee's latest comments and if their parents or other family members have reacted to his comments or recent media reports.