Ms Scary has long been an avid fan of Ms Janet "Gimme A Beat!" Jackson.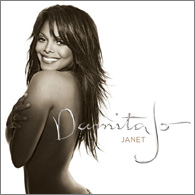 Why, many a happy moment did I spend practicing alternating shoulder shrugs to the syncopated beats of "Nasty" in my mother's padded-to-the-earlobes jacket and handclapping my knees until they were black-and-blue while "Rhythm Nation" blasted away in the background.
So despite her recent mammary lapse at the Super Bowl and her 1st runner-up position in a "Most Foolish Americans of 2004" poll (the winner went to her brother Wacko Jacko), Ms Scary was understandably excited about getting her well-manicured hands on Ms "Nipplegate" Jackson's eighth album
Damita Jo
.
Cleverly assembling a top-notch production and songwriting team comprising hip-hop wunderkinds Kanye West and Dallas Austin, and reuniting with her
Control
team of Jam and Lewis, the 38-year-old R & B vixen has unleashed what is undisputedly the most sex-drenched album the pop industry has ever seen or heard.
Every bit deserving of its Parental Advisory tag,
Damita Jo
features titillating titles such as "Sexhibition" and "Moist," taboo topics such as jerking off in a car in "Warmth" (sample lyrics: "My hand's wrapped around, stroking up and down") as well as a spread featuring the singer and her "olive orbs" in various stages of "wardrobe malfunction."
In fact, with each utterance practically dripping with sexual innuendoes, Ms Scary is willing to bet her favourite chinchilla fur coat that Ms Jackson has set her sights on the queen of raunchy-sex throne left vacant by an increasingly frumpy Madonna.
Amongst its impressive collection of 22 songs, there are a number of chart-friendly tracks including the bass-line driven "All Nite (Don't Stop)," the 70s disco-inspired "R & B Junkie", the poignant ballad "Thinkin' Bout My Ex," the first single "Just A Little While" with its cool guitar riffs and the electro-soul dance track "Slolove."
Having said that,
Damita Jo
unfortunately plays like the equivalent of an anti-climax. In part marred by Ms Jackson's whispery vocals (which made her sound as if she remains distracted by the public furor over her recent breastcapade), the album is further let down by too many colorless ballads and a preponderance of R & B tunes sadly lacking in her signature hooks exemplified in earlier hits such as "Love Will Never Do" and "Runaway" etc.
Although not one of her better releases,
Damito Jo
is still a sinfully sexy album, so much so that Ms Scary is almost tempted to forgive Ms Jackson for getting her claws into Justin Timberlake before I had a chance to make my move -
almost
.