The Hong Kong Lesbian and Gay Film Festival is gearing up for its 2004 season with a limited release of membership packages aimed at pink cinephiles. Membership packages include free and discounted film tickets, party invitations and perks such as a meet and greet the filmmakers' session during the festival.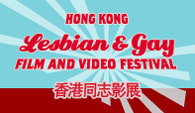 "Whether they're long-time film buffs or new to the festival, it's a fun way for people in the community to show they support the film festival, and enjoy some nice perks. At the same time, it is a great way to raise funds for the Film Society", says festival fundraiser and membership program coordinator Michelle Fong.
The 2004 Hong Kong Lesbian and Film Festival will come to city screens from November 25 - December 5. The festival program will include the Hong Kong premieres of over twenty new feature films from the planet's queer hot zones. Festival screenings will take place at Palace IFC and Broadway Cinematheque. Full program details will be released in October.
Membership packages are offered at prices starting at HK$300, for a Boyfriend or Girlfriend of the Film Festival party pack.
More information and forms are available online at http://www.hklgff.com and through the Film Festival Society at
festival@hklgff.com
.