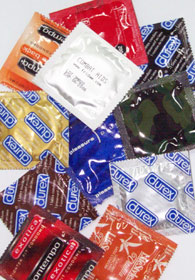 Fridae has assembled a panel of respected (and experienced) panel of condom judges comprising energetic "sexpert" Alvin Tan (as mentioned by Dr Balaji, Singapore's Senior Minister of State for Health, in a speech last November), Grift who is also a contributor to Fridae, soul-sista Zee and multi-orgasmic lesbian, Venusa. They worked overtime and overnight to try out condoms by Fridae; Pleasure Plus; Durex Performa, Closer, Featherlite, Chocoate and Chocolate Mint; Ansell Exotica, Bareback, Vanilla and Okamoto 002.

Venusa, a 20-something, female (but of course), sparkling gorgeous queer femme chick, multi-orgasmic pillow queen who likes to be on top (or in front, or behind) occasionally.

Alvin "Sexpert" Tan, 22 (lie detector alert!), who pens the monthly Ask Alvin column and insists on being written up as a "pure top" for this review.

Grift, 34, top, works a day job in a top advertising agency in Singapore.

Zee, 30ish, bottom, occasional movie review and editor of Fridae's Movie Club newsletter.

Condoms reviewed:
- Pleasure Plus
- Durex Performa
- Fridae 'Combat AIDS' condoms
- Ansell Exotica vs. Durex Closer
- Ansell Bareback vs. Durex Fetherlite Vs. Okamoto 002
- Durex Chocolate/Mint vs. Ansell Vanilla

Next week, we review water and silicon-based lubes. Condoms are provided by SGIntimates and U4ria. Fridae readers (ordering and shipping to a Singapore or Malaysia address) will enjoy a 10 % discount from SGIntimates. Fridae readers will also enjoy a 10 % at U4Ria located at 111 North Bridge Road, #04-53, Peninsula Plaza, Singapore.