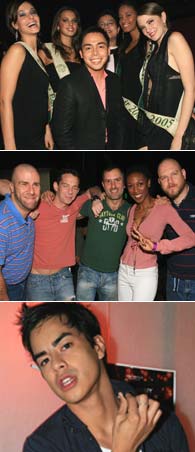 From the top: Founding director and publisher Ding Pastrana (center) with Ms. Earth beauty titlists and emcee DJ Mojo Javier; Salvation partyphilia DJs from London and GP's 2nd issue cover model.
No amount of rain could match the downpour of beautiful party people at Embassy who welcomed the arrival of
Generation Pink
(GP) Magazine's premiere issue!
GP is the Philippines' latest and hottest LGBT-oriented magazine that aims to educate, entertain, and empower the dynamic, progressive and party-loving Pink community.
Celebrities Vina Morales, Geneva Cruz, Wilma Doesnt, and Hans Montenegro hobnob with beauties Ms Hawaiian Tropic International Philippines 2005 Jocelyn Rose Oxlade, Ms Earth 2005 Alexandra Braun Waldeck of Venezuela, and other Ms Earth beauty pageant titlists as the wine poured on throughout the night. DJ Marie of Calypso Events spun her beats furiously and worked up the crowd towards the climax of the night: the toast to
GP Magazine
! The word memorable could only begin to describe the Launch with DJ Mojo Jojo hosting, White Zinfandel flowing, beauty queens dancing, confetti flying, and all of Embassy cheering for GP!
Proceeds from GP magazine will be entrusted to Gift Foundation (
giftfoundation.info
), GP's partner organisation that promotes HIV/AIDS awareness and youth advocacy. It is also affiliated with CircuitAsia (
circuitasia.com
), the country's premier organiser for world-class circuit parties and the lead benefactor of Gift Foundation.
GP magazine is available at major bookstores and magazine outlets in the Philippines.