Five years is a long time for any automobile product to remain on sale unaltered. And more importantly, staying relevant or competitive. The typical Audi or BMW products receive engine updates and facelifts so frequently that it's hard for a layman to keep up with the fast and furious changes. As Carlos Gosh, CEO of Nissan-Renault alliance has pointed out that it only makes financial sense for a car to be replaced completely after four years, far more logical than to spend marketing dollars to create showroom interest.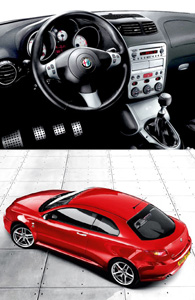 Obviously, the Italians must have thought otherwise. The GT has been on sale with no alterations to its appearance since 2004. And dare I challenge you for a better looking coupe on sale today for this side of S$150K. I suppose not. The Bertone honed lines are devastatingly seductive. The Alfa Romeo GT has withstood the test of time and does not fade in comparison to new competitors.
Oddly, not unlike Benjamin, from this year's Oscar's champ in the making;
The Curious Case of Benjamin Button
, the GT's exterior has been stirring new interests with this Cloverleaf edition (Local distributors has decided not to confuse buyers, hence the name, Cloverleaf is not marketed in Singapore.) The unique 18" double spoke alloys, satin effect front grille and wing mirrors are exclusive to Cloverleaf edition and they add immense appeal to the timeless lines of the GT.
Squeezing 165 horsepower from a 2.0 litre naturally aspirated engine is no big news these days. Honda's Type R engines of the same capacity trumps the GT's 2.0 JTS engine easily with 230 bhp. Yet, I am suitably impressed by the delivery as it is accompanied by a rich and charismatic engine note. The century dash takes 8.7 secs. Not exactly sports car like by today's standards. A Golf GTi does that in 6.9 secs.
While we are increasingly getting customized to lightning quick shifting double clutch gearboxes, the GT's selespeed gearbox remains an attractive proposition. Essentially an automated manual gearbox, the selespeed offers a charming feel and control of the engine as upshifts and downshifts of gears take place.
While there is a slight deficit in performance, the GT remains on pace with it's competitors in terms of handling fun. The steering rack is a devilishly quick at 2.2 turns lock to lock, giving an impression of high agility and superb composure while taking turns at silly speeds. Ride quality is acceptable despite the thin rubber the GT wears. Only the poor noise insulation reveals the ageing engineering behind the GT.
How do we judge a high quality interior these days? Let your fingers run through the top surface of the dash? Seemingly a softer feel is directly related to the perceived quality of the car's interior. In the GT, the distinctive center air con vents on the dash can be a blow to it's showroom appeal, as the plastics used for those vents are just not that great. In truth, the GT's Italian cabin remains a stylish, distinctive and wonderfully crafted.
Every control falls into my hand with ease. Driving position is royal and kinks-free. Shockingly for a coupe, all round vision is excellent. Despite a lack of a I-pod connectivity, the GT's cabin is attractive and practical true four-seater. Only the Italians know how to make their car interiors a sense of occasion.
Owning an Alfa Romeo has always been an affair for the heart. The Alfa Romeo GT is an engaging and affordable coupe with a million-dollar looks. So, what could go wrong with the GT?
| | |
| --- | --- |
| | Alfa Romeo GT Coupe |
| Engine | 1,970cc 4 cylinder 16V, DOHC |
| Transmission | Selespeed (5-Speed Automated Manual) |
| Max. Power | 165HP @6400rpm |
| Max. Torque | 206NM @3250rpm |
| 0-100 km/h | 8.7 secs |
| Top speed | 216 km/h |
| Fuel Economy | 8.7L/100km (combined cycle) |
| CO2 Emissions | 208g/km (Euro IV compliant) |
| Dimensions (L x W x H)/Weight | 4489mmX1763mmX1355mm/1320kg |
| Price with COE* | $145,800 |
*Prices quoted are indicative of prices in Singapore. Please contact your local distributor for prices in your country.
Alfa Romeo is engaging with America's once most creative and innovative carmaker, Chrysler for collaborations and technology sharing. Let's hope there will be real fireworks.