One of the most exciting and jaw-dropping moments of last year's GRAMMY telecast was when newcomer Skylar Grey delivered a fearless and flawless performance of "I Need A Doctor" with rap heavyweights Dr Dre and Eminem. Taking the stage in front of millions and millions of people, Grey held her own and turned the opportunity into a star-making moment that firmly put the unknown Wisconsin singer/songwriter on the map as one of the most exciting new artists to watch.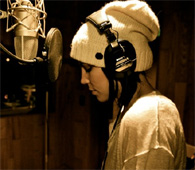 Since that performance, Grey has gone back into the studio to write and record more songs for her debut album. She also toured across the U.S. and Europe as a special guest of Bruno Mars, and she released two singles to introduce more people to her music as a solo artist. It's all part of a carefully-planned strategy to build her career at a proper pace, avoiding the trap to rush out her unfinished music after the success of her GRAMMY performance.
As part of the slow and steady roll out of her music, Grey released this week a unique digital EP, entitled "The Buried Sessions of Skylar Grey," that includes three acoustic tracks that she wrote but were made famous other people. Included on the the release are "Love the Way You Lie" (originally by Eminem and Rihanna), "Coming Home" (originally by Diddy Dirty Money) and "Words I Never Said" (originally by Lupe Fiasco).
Every single track on this EP release is a gem, but the stripped down, rap-free version of "Love The Way You Lie" is particularly haunting and beautiful. Grey recorded this track as a demo that was scooped up by Eminem who turned it into a GRAMMY nominated song with Rihanna.
Grey's original demo version of "Love The Way You Lie" (officially titled "Love The Way You Lie (Part III") included on this new EP is as stunning as the version we already know. It poignantly echoes a sense of urgency with its conflicted lyrics that point to heartbreak but still offer a sentiment of hope and resolve. Grey's pure and raw performance throughout the EP is absolutely breathtaking and it reminds me of her break-out performance at the 53rd GRAMMYs that captured a similar intensity and had viewers in awe. (Stream Skylar Grey's "The Buried Sessions Of Skylar Grey" for free on Rdio or download it on iTunes.)