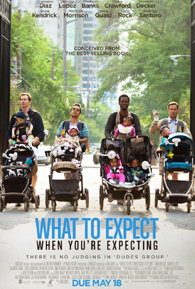 Hollywood's finest romcom writers were probably thinking that after The Hitchhiker's Guide to the Galaxy, they could also turn a dry manual into a major motion picture. They looked around and found the popular American guide to pregnancy written by Heidi Murkoff and Sharon Mazel and voila – we have a film, more or less!

What should you expect if you do decide to watch What to Expect When You're Expecting? For reasons only known to a mysterious higher power, the screenwriters have decided to one-up Garry Marshal at his own game of forgettable and entirely perfunctory ensemble films. It would be fair to describe What to Expect as a Valentine's Day and New Year's Eve all rolled together in the haze of a nine-month pregnancy with five couples skittishly facing the prospects of parenthood.

As expected when lesser writers and directors start taking leaves out of Gary Marshal's playbook, the result is a much weaker film with romantic parings that have less chemistry, whose character arcs are even more sketchily and perfunctorily written, and whose punchlines are so poorly developed, they're complete non sequiturs.

If you're not expecting anything from this film and are the sort who would laugh easily no matter how flat the jokes get, this film should be fine for you.