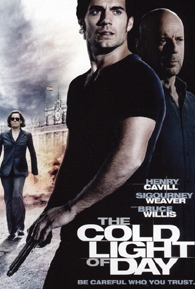 The Cold Light of Day
is practically the same movie as
Abduction
, with a young man on the run after certain dubious global forces attack his family and the balance of global power apparently seems to hang on his shoulders while he is cajoled, persuaded, threatened and blackmailed by two separate factions of the world's secret services into giving up some secret he possesses but whose content he isn't privy to.
In this film the young man in question is William Shaw (Henry Cavill), whose family is on vacation in Spain when his father (Bruce Willis) is shot dead and his family are kidnapped by some strange, dark-skinned folk who appear to be terrorists, and who is soon targeted by a mysterious CIA operative (Sigourney Weaver) and her goons. Turns out daddy was harbouring more than a few secrets about who he was or what he did.
Franco-Arab director Mabrouk El Mechri who previously revived the moribund career of Jean-Claude Van Damme with the famously deconstructive
JCVD
gets a decidedly inauspicious American debut in this film. He is saddled with a very clichéd script that sounds like Robert Ludlum gone light and padded with extended action sequences and car chases that seem to be filmed on autopilot. Henry Cavill, the next Superman, is given so little to do here the memory of his character evaporates into thin air, Sigourney Weaver lends a little fun to her sadistic CIA turncoat character, and Franco-Algerian actor Roschdy Zem lends gravity and menace to his mysterious apparent terrorist. Veronica Echegui is on cruise control as the token girl coming along for the ride.
None of them possess enough talent to overcome the film's totally predictable trajectory. Tiresome and clichéd, this film deserves to sink without a trace.