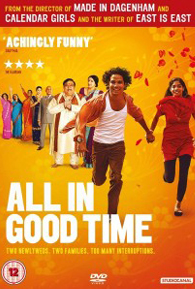 Newlyweds Atul (Reece Ritchie) and Vina (Amara Karan) find that even with a room of their own, living with his father and his larger-than-life personality puts a dampener to their efforts at intimacy and establishing a space for themselves. That is, they're not able to shag away like any normal newlyweds thanks to a scuttled honeymoon plan and having to bear with the presence of one over-enthusiastic, know-it-all, bumbling paternal unit skulking around the house and intruding at the most delicate moments.
Part bedroom farce, part domestic drama,
All in Good Time
is the sum of its creative parts: director Nigel Cole, who last put out
Made in Dagenham
and
Calendar Girls
— both agreeable dramedies set in working class North England, and Ayub Khan Din, whose
East is East
thrived on the intergenerational and cross-cultural dynamics in British Asian families.
It's hard to imagine how not getting any bootie in the first weeks of marriage would lead to a near-breakup but when the screenplay raises (and mocks) the traditional Indian stereotypes of familial obligations and expectations, one may start to understand the tremendous pressures, unspoken social codes and prejudices that younger generations of Asians have to face living with their parents, elders, and neighbours.
Given the very far-fetched conceit and the barely sketched newlyweds, it's natural that the film is very easily stolen by veterans Harish Patel and Meera Syal, who play the groom's long-loving parents. Their double act of a self-aggrandizing father whose antics are tolerated by a very patient and calm wife provide the constant comic relief to the bedroom farce that descends too fast into a drama, and serve as an emotional anchor to the film.
All in Good Time
is yet another wholesome, uncontroversial British working class dramedy that stands on the strengths of its writer-director team.