Once purely the domain of backpackers and travellers on a shoestring budget, hostels or more specifically "design hostels" are gaining new fans with the fast growing crop of affordable accommodation options that doesn't sacrifice style, amenities or comfort. Those researching hostel options in Europe may have come across Generator Hostels, widely regarded as Europe's fastest growing hostel brand, with its flagship hotel-hostel property in the Spanish city of Barcelona. The group currently has eight hostels in seven European cities including London, Berlin, Venice and will open in Paris and Rome in 2014.
Barcelona is a capital city of many things – from food and wine to architecture and design, there is just so much to see, do and eat. Which is why we found ourselves drawn to the wallet-friendly, quality-driven hub of cool that is Generator Barcelona Hostel and Hotel, which opened in early 2013.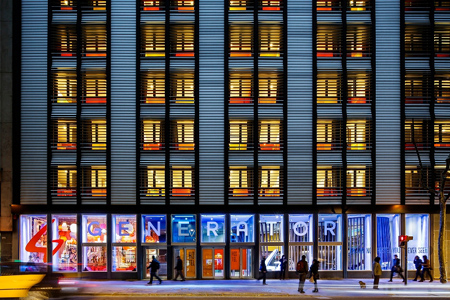 Generator Barcelona. All photos courtesy of Generator Hostels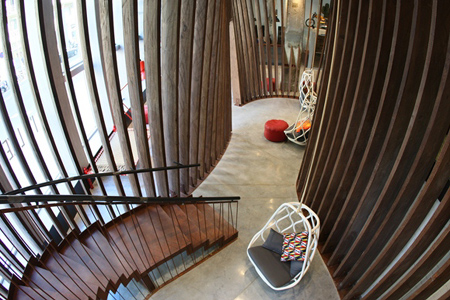 The lobby
The sleek glass and steel fronted building stood out from its more dowdy 1960s-era neighbours as we approached, and we weren't disappointed by the equally chic lobby-cum-lounge where hip wannabe-model/backpacker types were casually hanging out.
The Design Agency, a Toronto-based firm, which collaborated with local architects and artists had remade the former 1960s office building into an award winning property featuring a ground floor restaurant lit by over 300 lanterns, and a giant bird-cage-like wood structure in the lobby that recalls Barcelona's ship-building heritage. The Design Agency recently won a 2013 Gold Key Award for Excellence in Hospitality Design for Generator Barcelona which was selected from over 260 entries as the winner of the Best Hotel Budget/Focused Service category.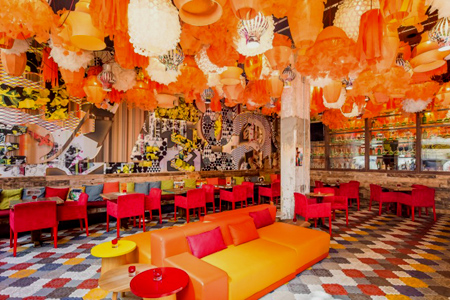 Ground floor restaurant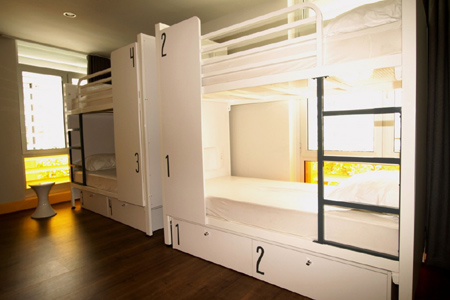 Each bed in the dorms is equipped with its own LED night light,
power sockets, and a lockable drawer.
Located in the traditional yet vibrant Gràcia district, Generator Barcelona offers two types of accommodation – the hostel, where there are 6 or 8 bedded mixed gender dorm (shared) rooms, 6-bedded female only dorm rooms or 1-4 bedded private rooms. On the hotel side, there are private 1, 2, and 4-person rooms. En-suite bathrooms are de rigeur, along with speedy, free wi-fi (or "wee fee" as it's pronounced in Spanish). All rooms and lifts are accessed by keycards, alongside 24-hour reception adding to the general feeling of security and safety.
In the dorms, we tested the 6-bedded female dorms, and found them to be reasonably spacious and scrupulously clean. However, a lot does depend on your fellow bunk mates – if they are out partying later than you, then you might get interrupted sleep or unwanted smells in the room. Each bed is equipped with its own LED night light and power sockets, comfortable all-white linens and bedding and a drawer for lock-up storage of a medium-sized suitcase or backpack; while the room has air-conditioning, full length mirrors, separate shower, toiletries sink and toilet areas, and windows to the street.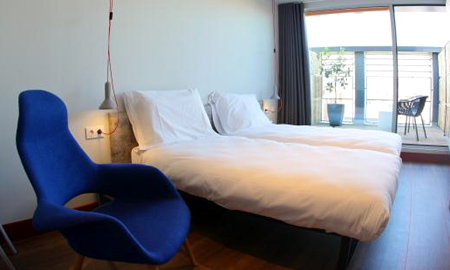 Hotel rooms are located on separate floors to ensure more privacy.

Terrace with views of the city
The hotel rooms are located on separate floors, ensuring less footfall and more privacy. The artistic décor and large windows put you in mind of a tasteful modern boutique hotel, while some rooms even have their own balconies. What you are really paying for in this upgrade is the luxury of privacy and space.
Should you be visiting any of the cities during gay pride, check out the gay-friendly hostel chain's blog for parade and party tips, or parties in its own bars in the hostels.
Whichever your accommodation choice, you'll definitely be saving money – so go out and spend it. Being in the very trendy and well located Gràcia disctrict, you're about 20-minutes brisk walk to the Casa Batlló to the south or Sagrada Familia to the east, both stunning masterpieces by modernist architect Antoni Gaudí. Tapas restaurants and indie shops are a-plenty, though we enjoyed the gems closer to nearby L'Eixample – which, due to its many gay-friendly bars, has also been dubbed the 'Gaixample'.
Not everything in Barcelona is new though; this is a city with Roman roots, founded at least 2,000 years ago. Find yourself one of the excellent and informative walking tours to take in the ancient, atmospheric streets of the old city, particularly Barri Gòtic and El Call Jewish Quarter. If you are venturing out of town, take the chance to visit Codorniu, a 45-minute car ride away. The five-century-old firm created cava, Spanish sparkling wine, in 1872, leading to the building of its palatial winery – today a National Historic Artistic Monument for its Catalan modernist architecture. The visit caps off with a train ride of its extensive underground cellars and tasting of cava, of course – a perfect salud to the epic city of Barcelona itself.
The writer's stay was hosted by Generator Hostels.
Rates from €15 per person per night in a dorm room; €29.50 per person for private twin hotel room | Carrer de Corsega, Barcelona, Spain | Tel: +34 9322 003 77 | generatorhostels.com/en/destinations/barcelona/