"LGBTs, pluralism, liberalism – all these 'isms' are against Islam and it is compulsory for us to fight these," declared Prime Minister Datuk Seri Najib Razak on Thursday, according to independent news website, The Malaysian Insider. He was speaking at an event comprising 11,000 Islamic religious leaders and mosque committee members from around Malaysia.
Malaysia PM Najib Razak
His comments follow his comments made during a book launch in late June that deviant aspects such as liberalism, pluralism and Lesbian, Gay, Bisexual and Transgender (LGBT) would not have a place in the country, reported state-run Bernama news.
At the latest event, Najib also said the government supports human rights, but only within the boundaries of Islam. He further advised Muslims to avoid discord which could threaten those who safeguard Islamic principles.
"If the nation falls into a state of chaos, who will safeguard these people?" he asked.
"There are so many attacks on our religion. LGBTs, pluralism, liberalism, Seksualiti Merdeka. We must stand strong and defend the government," he added.
Seksualiti Merdeka, an annual sexuality rights festival held in Kuala Lumpur since 2008, was forcibly cancelled by the police in November 2011.
In June, Najib expressed disappointment toward US President Barack Obama's stance on same sex marriages in a statement issued by Malaysia's Foreign Ministry. It said that while Malaysia does not intrude upon another country's domestic issues as the values of foreigners differ from those of Malaysia, Malaysia "will not compromise or work together with any parties in or outside of the country to recognise the LGBT community and its rights".
His comments follow opposition leader Datuk Seri Anwar Ibrahim's remarks the day before in which he had reportedly said he agreed with discriminating against gays to protect sanctity of marriage.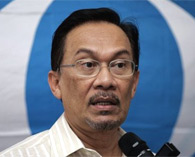 Anwar Ibrahim, former Deputy Prime Minister of Malaysia and is currently the de facto leader of Keadilan (People's Justice Party).
According to another report by The Malaysian Insider on Wednesday, Anwar answered in the affirmative when asked by defence lawyer Datuk Firoz Hussein: "Should we discriminate against homosexuals?"
"We don't give space to homosexuals and uphold the sanctity of marriage," Anwar said, adding the law must be "crafted in a way we must believe the sanctity of marriage between a man and woman".
"We do not promote homosexuality," he added.
However, Anwar also insisted that archaic laws – referring to Section 377 of the Malaysian Penal Code which criminalises unnatural sexual offences including gay sex – should be reviewed as it is used "only used for political reasons".
Earlier this year, Anwar was acquitted of a charge of sodomising former male aide Mohd Saiful Bukhari Azlan, with the High Court ruling that the prosecution had not done enough to prove Anwar had committed sodomy against Saiful.
Malaysia's 13th general elections must be called by March 2013. It is widely expected to be a close contest after the ruling UMNO coalition suffered its worst result in 40 years during the 2008 elections.
---
Malaysian LGBTS should vote wisely in upcoming elections
Ahmad Hafidz Baharom Alam Shah, an openly gay social commentator in Malaysia, was asked by Fridae to share his insights and thoughts about the spate of anti-gay bashing by Malaysian politicans:
"This is all political, since it is a well known fact that no party wants to advocate or even discuss LGBT rights until after the next Malaysian General Election due to be called at any moment as the current government's mandate ends in March 2013. Till then, expect the bashing to continue as politicians from both sides try to win votes from the Malaysian Malay majority, which is roughly 60 percent of the population.
"One side now wants to maintain the status quo of which sodomy is a federal crime while another wishes to abolish this because they think it is archaic and abused purely to arrest politicians.
"If you are true to yourself and know that you are in fact a member of the LGBT community, you know who to vote for."
Click on the "Malaysian LGBTS should vote wisely in upcoming elections" link below to read more.