The Bangrak district's new police chief has ordered the bars and clubs to stop serving drinks at 1.30am and close their doors by 2am and the minimum age of entering a bar has also been increased from 18 to 20. In addition, go-go bars are now prohibited from allowing customers to pay a ?fine? to take a guy out, says a source who declined to be named.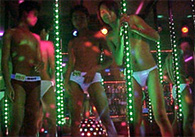 According to unsubstantiated reports, the move comes after Prime Minister Thaksin Shinawatra said that he would like to see all gay go-go bars closed down and the broadcast of a documentary series on local TV about male prostitution.
The former chief of police in Bangrak district (the area that includes the infamous Patpong and many gay bars) had been transferred following an inspection by Interior Minister Purachai Piumsombun last week, during which he found a number of bars open after 2am.
Although in the recent years local police had permitted entertainment venues in the area to stay open until 3am, the government is now enforcing the 2am closing time on Fridays and Saturdays, allegedly to crack down on the use of drugs in bars and discos.
Bars under the supervision of Bangrak police have been ordered not to have sex shows; bars have also been warned that failure to comply will result in closure.
In recent weeks, police have forced go-go bars in Soi Twilight area to close completely or early in the night. On one August night, police ordered gay discos and bars in Silom Soi 2 to close at 1am while bars in Soi 4 were permitted to operate but with restrictions on karaoke and music.
While some may avoid Bangkok?s go-go bars for the being, many believe that the police force?s enthusiasm to enforce the new rules will wear off.
Silom road will be closed to traffic on Sundays beginning in October to promote tourism, energy conservation and reduce air pollution, reports the
Bangkok Post
. The government said they would consider closing more city streets if the project proved successful.