Lan Yu, a film by openly gay Hong Kong art house director Stanley Kwan about the tortured romance between two Beijing men, has swept five awards at the prestigious Taiwan Golden Horse Awards.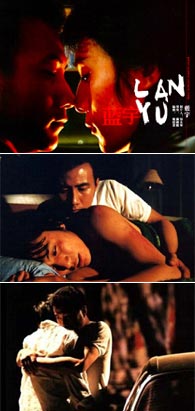 Twenty-two year-old Chinese actor Liu Ye, playing Lan Yu, the movie's central character won Best Actor while the film took four other awards for Best Director, Best Editing, Audience's Choice for Best Film and Best Adapted Screenplay although most of the sex scenes from the novel were left out.
Based on a gay erotic novel anonymously posted on the Internet known as
Beijing Gushi
or Beijing Story, the film explores the relationship between a shady businessman Hangdong (Hu Jan) and the student prostitute Lan Yu (Liu Ye) he hires and falls in love with over a period of 10 years in Beijing, China.
As if deliberately courting controversy, not only did Kwan film in secret and without official clearance in Beijing, he also deals with the 1989 Tiananmen Square massacre that killed hundreds, or even thousands of people according to some accounts.
One of the most poignant scenes shows Chen driving towards Tiananmen Square searching for Lan Yu as tanks and troops rolled in to crush the demonstrators.
Lan Yu
is Kwan's first gay film although he has made 13 films which were primarily love stories since 1985 and since coming out in 1996.
The 43-year-old told
Reuters
news that he agreed to take on the project because the story mirrored his own relationship with his lover known only as William.
"The story reminds me a lot of my own experience... it resembles my relationship with my partner which has been very tumultuous."
To find out more about what Stanley Kwan has to say about being gay and Lan Yu, his award winning film, read his interview in our People section.