Inspired by television images of gay and lesbian couples getting married in San Francisco, King Norodom Sihanouk of Cambodia wrote in French that as a "liberal democracy", Cambodia should allow "marriage between man and man... or between woman and woman."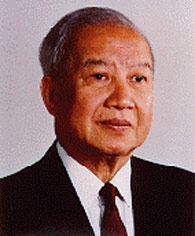 King Norodom Sihanouk of Cambodia
In a hand written message posted on his web site last week, he said he had respect for homosexual and lesbians, and said they were as they were because God loved a "wide range of tastes."
The 81-year-old king, who was reportedly on a medical visit to Beijing at the time, is a constitutional monarch with no executive powers but is highly respected in his country.
Gay couples are not allowed to marry in Cambodia.
San Francisco has issued more than 3,200 marriage licenses to gay couples since Feb 12, amid a raging debate across the United States over whether such unions should be legalised.