Organised by Fridae, the Brokeback Mountain charity screeningheld on Wednesday night raised S$25,000 (US$15,300) for Action For AIDS. The film was named best film and bagged three other awards at the 63rd Annual Golden Globe Awards held in Beverly Hills in January.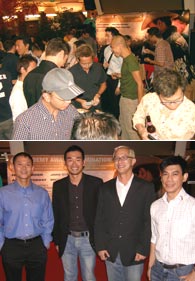 Top: Reception before the screening; bottom from left: Assoc Prof Roy Chan, Dr Stuart Koe, Jim Chow of Fridae and Paul Toh, Executive Director of AfA.
The 17-year-old non-governmental organisation provides S$60,000 a year to help patients access anti-retroviral therapy. The monies raised will go towards its Medical Subsidies Fund and supporting the education and MSM Counseling program.
Assoc Prof Roy Chan, President of AfA, said: "Action for AIDS is very grateful for the generous and spontaneous support from private individuals and organisations in the battle against AIDS and against stigma and discrimination. Tonight's full house at the gala premiere of Brokeback Mountain is hopefully an indication that community spirit and interest in confronting difficult issues is alive and well."
Asia's largest gay and lesbian network, Fridae is "proud to support the pioneering work that Action for AIDS does in keeping HIV infection rates in Singapore one of the lowest in Asia," says its CEO, Dr Stuart Koe.
"Brokeback Mountain is an extremely important movie in how it succeeds at breaking down stereotypes and portrays a love that defies social conventions. That it has been both a critical and commercial success means that society is ready to address such themes."
The movie, which has been banned in China and decided against being shown in Malaysia by its distributor, was passed uncut and rated R21 in Singapore. Until recently, the Singapore Media Development Authority has been more strict against gay content, banning films such as
Forever 17
and censoring gay and lesbian sex scenes in films.
Lan Yu
, which was banned four years ago, had its ban reversed late last year when a distributor re-submitted it and was screened with an R21 rating, uncut.
Fridae thanks all attendees and sponsors for their generous support of the event.