A Singapore cable television operator has been fined for airing a commercial that showed two women kissing, according to a media statement issued by the city-state's media regulator on Wednesday.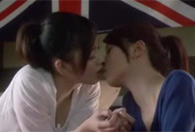 Singapore's Media Development Authority on its Web site that it has fined StarHub Cable Vision S$10,000 (US$7,200) for breaching the TV Advertising Code by showing a commercial of a song that depicted lesbian kissing scenes.
The commercial, which promoted a song titled "Silly Child" (see video below) by pop singer Olivia Yan (阎韦伶), was aired on MTV's Mandarin-language channel last November.
"Within the commercial, romanticised scenes of two girls kissing were shown and it portrayed the relationship as acceptable. This is in breach of the TV advertising guidelines, which disallows advertisements that condone homosexuality," the statement said.
It added: "MDA also consulted the Advisory Committee for Chinese Programmes and the Committee concurred that the commercial had promoted lesbianism as acceptable and romantic, especially when shown together with the lyrics featured."
StarHub was reported as saying that it is disappointed with the watchdog's decision but says it understands the concern and will work closely with partners to ensure broadcasting guidelines are adhered to.
While MDA's decision did not surprise members of the gay and lesbian community in Singapore, pioneer gay rights activist and Fridae columnist Alex Au decried the decision to be "out of step with the social attitudes of Singaporeans" and "beyond commonsense."
"It's a fact of life that there are gay and lesbian people in this world and they engage various acts of affection like any other person and I don't think Singaporeans are so blind as to think that these things do not happen anywhere in the world. It's just absurd to treat TV viewers as children," Au told Radio Australia in an interview.
"Singapore society is such that homosexuality and gay kisses are really no big deal. It's as if something that they've never seen before. So the curiosity may not be arosed as much this time as it might have been say ten years ago. So in that sense, it means that Singaporeans are quite relaxed about the whole issue and that the government policy is therefore completely out of step with the social attitudes of Singaporeans."
In October 2006, the cable operator was fined $10,000 for airing what the Media Development Authority (MDA) has said to be "footage of lesbian sex and bondage" by airing scenes of women having sex in an American reality TV show called
Cheaters
.
Under Singapore law, gay sex is deemed "an act of gross indecency," punishable by a maximum of two years in jail. The government has however said that the laws will not be used to prosecute consensual sexual relationships between adults during the intense public debate leading up to the parliamentary sessions discussing a wider reform of sex laws last year.