New "Coming Out" Television Series Airs in South Korea

Recently, late night television viewers in South Korea may have seen something unexpected: a same-sex kiss. An advertisement on the cable channel TvN quickly shifts between a smartly dressed man and woman as they appear to race towards each other. But rather than meeting, the woman briskly exits the frame while the man stops abruptly to kiss his waiting male lover. The ad was created to generate interest in South Korea's first television talk show series about homosexuality, called, Coming Out.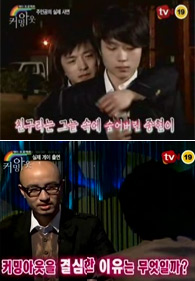 Co-hosted by actor Hong Seok-cheon (bottom pic) who was dropped from a popular television show after becoming the nation's first actor to come out as gay in 2000 and heterosexual actress Jung Kyung-soon, the 12-episode series includes dramatisations and interviews with the duo giving advice on gay issues.
The 12-episode series debuted on April 14 and is aired at midnight. The show includes dramatic profiles of people who have come out to family, friends and coworkers with advice proffered by co-hosts Hong Seok-cheon and Jung Kyung-soon. Hong is a 37-year-old actor who was dropped from a popular television show after becoming the nation's first "out" actor in 2000. After several-years off-air, Hong's entertainment career has slowly restarted.

At a press conference held on April 7, Hong told reporters that when he first heard about the project, he thought it was "crazy" for Koreans to out themselves on national television. Based on his painful personal experiences, he said he sympathises with young Koreans who remain in the closet. "I don't advise people to come out because I know it is a hard decision. But as for myself, I have never been happier. I don't have to lie to myself any more."

Hong's co-host Jung, who is heterosexual, told reporters she was happy to participate. At the outset, she said that she encouraged producers to focus on people's humanity. She told reporters, "So many minorities are being discriminated against [in Korea]. Korean society needs more programs like this."

The series' producer, Choi Seung-jun, feels that the project has helped him to empathise with the struggles faced by many queer Koreans. He told reporters: "Five percent of Korea's population is considered homosexual, but who knows if the number is higher? These people who are living with us right now and the suffering they go through is unimaginable."



For more information: comingout.or.kr.


South Korea's Human Rights Commission Celebrates the "Six-Coloured Rainbow"

This spring, the National Human Rights Commission of Korea produced an animation series titled, A Different Story of Two Persons: The Six-Coloured Rainbow. The programs hope to promote diversity and fight discrimination by highlighting the experiences of marginalised groups in Korean society. The disabled, women, mixed heritage families and sexual minorities are profiled in the six-part series, which was released for public distribution on April 17. The animation film, Cover Up, was created by Park Yong-Jae, and addresses the pervasive discrimination faced by homosexuals in Korea.

Last fall, the Commission made news when draft legislation for a historic non-discrimination bill created with their input generated controversy. South Korea's powerful conservative Christian lobby persuaded the Ministry of Justice to remove protections for gays, lesbians and six other groups, prompting Korean queers to mobilise. Protests from Korean and international gay rights groups helped table the proposed legislation for further review. The draft bill has stalled under the conservative administration of South Korea's new president, Lee Myung-bak.

For more information: humanrights.go.kr.


Koreans Celebrate 9th Annual Korea Queer Culture Festival

This past weekend, the 9th annual Korea Queer Culture Festival (KQCF) kicked-off with a parade in Seoul's Jongno district. The 15-day festival, which is South Korea's equivalent to other pride events around the world, is sponsored by Art Council Korea, the Seoul Foundation for Arts and Culture, and LGBT Korea. Although modest in scale when compared to many other summer pride festivals, the KQCF has become a popular event for Koreans and foreigners living in the Greater Seoul area.

An estimated 300 participants took advantage of gorgeous spring weather and gathered at Berlin Plaza along the Cheonggye Stream. Approximately one dozen booths offered information about local organisations and LGBT publications. Special events included a performance by the Korean transgender activist group, Jirungyi, and an exhibition by the Youth Sexual Minority Community group, Rateen. A Korean folk music troupe comprised of gays and lesbians also performed. The evening concluded with a "Queer Scandal" after party at Club Reball in Itaewon. KQCF 2008 will wrap up June 4-8 with screenings for the Seoul LGBT Film Festival (SeLFF).

For more information: www.kqcf.org.

Matt Kelley is a gay mixed-race Korean-American living in Seoul. He is currently writing a book about the intersections of race and sex in Korea. His website: www.mattkelley.info.