The 30th anniversary World Conference of the International Lesbian and Gay Association was held in Vienna, Austria, Nov 3-6, 2008. Some 195 delegates represented over 80 countries. ILGA now has more than 600 member organisations in all parts of the world.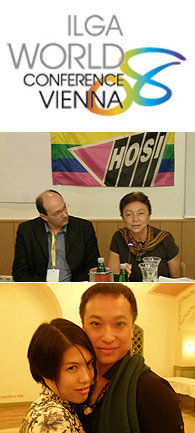 Middle pic: The new Female Co-Secretary General, Gloria Careaga (right) from Mexico with new Male Co-Secretary General Renato Sabbedini of Italy, a member of the Executive Board of ILGA Europe. Bottom pic: Eva Lee (left) of Beijing-based Common Language and Ashley Wu of Taiwan Tongzhi Hotline Association represent East Asia on ILGA's Asia board. Photos by Douglas Sanders.
Looking at the delegates, Gloria Careaga from Mexico, the new Female Co-Secretary General, said that ILGA had become "a truly international organisation." This was new, she was saying. A larger percentage of delegates were from Africa, Asia and Latin America than in the past.
Three things had happened. The biennial ILGA World was being held immediately after the annual ILGA Europe conference, also in Vienna. European attendance was down for the world event, because many individuals could not take off two weeks in a row, particularly in October and November.
Secondly, there was extra money for scholarships for people from the global South. Attendance from Africa, Latin America and Asia was strong. For once Europeans did not clearly dominate. And North Americans, never big ILGA supporters, were outnumbered by Latins.
Thirdly, the Quebec City hosts for ILGA World had backed out. HOSI Wien, the Austrian host of ILGA Europe, agreed to host both, but it had to be a smaller world conference than usual. This affected the balance between north and south.
ILGA World in Vienna was more international than in the past, but it was not a great conference. There were more delegates at ILGA Europe than at ILGA World. ILGA Europe had a real program, with panels and special speakers. The ILGA World program was limited. There were three outside speakers in the opening session and, later, two in-house plenary panels presented by the women's secretariat and the transgender secretariat.
The Vienna program could not compare with the excellent presentations at ILGA World in Geneva two years earlier. That had been a larger conference and it had not suffered from a late relocation.
ILGA World has always been dependent upon the local hosting organisations for the world conferences. So the late shift to Vienna was a serious blow that will probably not be repeated. The next conference will be in Rio de Janeiro, with strong local organisations and the enthusiastic Lula government with its "Brazil without Homophobia" campaign - the most progressive government program in the world.
The Vienna conference will be remembered for a tragedy. Philipp Braun, longtime German activist and Male Co-Secretary General, had an emotional breakdown during the conference. All sides praised his work in strengthening the organisation. But, uncertain whether Philipp would be able to carry on in the position, the conference re-opened nominations for the position (which had been unopposed).
There was a heated debate whether the reopening was allowed by the constitution. The two election commissioners opposed reopening, and resigned when the conference voted to reopen. New commissioners were chosen.
The three day conference was then dominated by a long series of nominations and votes. Philipp Braun, now absent, was continued as a candidate. Two separate votes led to Renato Sabbedini of Italy, a member of the Executive Board of ILGA Europe, replacing Philipp Braun as Male Co-Secretary General.
The final, very surprising vote, was for the Alternate Male Co-Secretary General. Sahran Abeysundara of Sri Lanka, the Asian male representative on the ILGA World board, got 99 votes. Philipp Braun got 101.
Female co-secretary general Rosanna Flamer-Caldera, whom many found difficult to work with, stepped down after seven years. The two new Secretary Generals are Gloria Careaga of Mexico and Renato Sabbedini of Italy. Both are long-time activists.
There were various changes to the corporate structure and the constitution. The full name of ILGA is now "the International Lesbian Gay Bisexual Trans and Intersex Association (historically known as ILGA)." A motion to change the acronym to ILGTA was defeated on two grounds - ILGA could be pronounced as a word, and ILGTA could not - secondly, while trans would have been included, bisexuals and intersexuals would have been left out. The end result was to expand the named constituency only in the "full name," retaining the familiar ILGA acronym.
Trans, both MTF and FTM, were very visible and active in the conference. A Trans Secretariat had been established at the Geneva Conference, based in a Peruvian organisation. It had been very active since Geneva, though it needs to engage with African and Asian groups.
As seems typical with ILGA World conferences, there was little continuity in leadership. The last Secretary Generals were not there. There was an elegant appearance by the Austrian/American Secretary General of 15 years earlier, in a formal black evening coat at the parliamentary reception. As well, Jori Petit from Barcelona and Rebecca Sevilla from Peru, earlier leaders, were present, though neither participated in sessions. The previous ILGA Asia co-chairs were absent.
Asian representation was spotty, though there are now 83 Asian member organisations. Asians in Vienna were from Bangladesh, China, India, Indonesia, Japan, Kyrgyzstan, Mongolia (based in Korea), Myanmar (based in Thailand), Nepal, Sri Lanka and Taiwan. Joey Mataele of Tonga was the one Pacific Islander.
We usually get news only about right wing politicians in Austria, and it was repeatedly noted that the country has no registered partnership law (bucking the new European pattern). But Austria was a generous host. Vienna gave the conference 50,000 Euro - matched by the national government.
Day one saw a reception at the Vienna government's neo-gothic Rad House. Day two we were in a mansion next to the neo-classical National Parliament, with the President of the Parliament hosting. Day three we were at an awards ceremony at the Bruno Kreisky Foundation (in the former premier's home). Good food. Lots of wine.
The US election occurred during the conference. There was great enthusiasm over Barack Obama's victory, and a resolution to send a congratulatory telegram. Africans led chanting: "Long live the spirit of Obama! Long live! Long live! Long live the spirit of Obama. O - ba - ma! O - ba - ma!"
Oddly (to this Westerner), there was no discussion of the loss on same-sex marriage in California. And no comment on the fact that Obama's position on marriage was no different from that of McCain. Obama, McCain, Bush and both Clintons all opposed "marriage." All - even Bush in the end - favoured 'registered partnership' laws at the state level.
Perhaps the loss on "marriage" in California meant little to Asians and Africans. For them marriage is not simply a distant goal, but an issue used against them by hostile public opinion.
I have always found ILGA conferences, whether well-planned or not, to be energising events. ILGA World Vienna had the usual good spirits, particularly, I think, for new delegates. The program was disappointing - compared to ILGA Europe, ILGA in Geneva or even the ILGA conference in Chiang Mai in January, 2008. But the people were great.
This is probably the only account of the ILGA World conference you will see. Even Rex Wockner, who provides a news feed for LGBTI media all over the world, has had no mention of it. Of course he was covering the hot breaking US news. He is based in California.
Probably no press release went out from ILGA. ILGA World is still a struggling organisation, and the Vienna conference was small and very internally focused. It was a serious dip down from Geneva, in spite of the good work of host organisation Hosi Wein.
What can I say to end on an upbeat note?
See you in Rio! That will be a great conference! Don't miss it.
Douglas Sanders is a retired Canadian law professor, living in Bangkok. He can be contacted at sanders_gwb @ yahoo.ca .
.