Singapore Deputy Prime Minister Wong Kan Seng on Thursday told the media that the government's position on homosexuality is clear and it will not be pressured into changing it.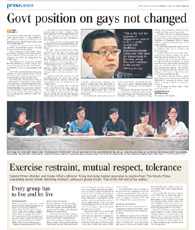 The Straits Times devoted several pages to the Deputy Prime Minister Wong Kan Seng's comments on the Aware saga in its Friday, May 15 edition.

He was responding to media queries from
The Straits Times
arising from the recent Association of Women for Action and Research (Aware) saga.
Wong, who is also the home affairs minister, reiterated Prime Minister Lee Hsien Loong's speech in Parliament in October 2007, in which PM Lee had said that Singapore is basically a conservative society and the conventional family, a heterosexual stable family, is the norm and building block of society.
In 2007, the government legalised oral and anal sex between heterosexual couples but retained the law that criminalises sex between men.
"The Government's position on this issue is clear. It was stated by the PM in Parliament on October 2007, and it has not changed. In his speech, PM said that Singapore is basically a conservative society and the conventional family, a heterosexual stable family, is the norm and the building block of our society. However, we recognise that homosexuals are part of our society. They have a place in our society and are entitled to their private lives. This is the way the majority of Singaporeans want it to be – a stable society with traditional, heterosexual family values but with space for homosexuals to live their private lives and contribute to the society.
"The Government was not going to be pressured into changing its position on homosexuality before the takeover of AWARE. Nor does the Government intend to change its position now that the old guard has recaptured AWARE.
"The debate on Sec 377A of the Penal Code showed how the homosexuality issue polarised our society. Advocates on both sides were passionate and vocal. In the recent AWARE tussle, homosexuality was clearly a major issue to both sides. This is unproductive and divisive.
"Our society will not reach consensus on this issue for a very long time to come. The way for homosexuals to have space in our society is to accept the informal limits which reflect the point of balance that our society can accept, and not to assert themselves stridently as gay groups do in the West.
"We live in a diverse, multi-racial and multi-religious society. Every group, whether religious or secular, has to live and let live, to exercise restraint and show mutual respect and tolerance. If any group pushes its agenda aggressively, there will be strong reactions from the other groups."
The Deputy Prime Minister further stressed that keeping religion and politics apart was a key rule of political engagement here.
"Our political arena must always be a secular one," he said
Referencing the Aware saga which began on March 28, when a team of new members seized nine of the 12 positions on the exco, Wong said the Government was "worried about the disquieting public perception that a group of conservative Christians, all attending the same church, which held strong views on homosexuality, had moved in and taken over Aware because they disapproved of what Aware had been doing."
It emerged that six of the eleven members attend Church of Our Saviour where its Pastor Derek Hong had tried to mobilise his congregation and churches in Singapore to stand up against the gay issue since 2003 as reported by Yawningbread.org.
Self-declared "feminist mentor", corporate lawyer and lay church leader Thio Su Mien, who admitted to mentoring the members behind the takeover, justified their actions by arguing that they had perceived Aware to be promoting a "gay and lesbian agenda" in recent years. Two weeks ago, the new exco was ousted at an EGM attended by over 3,000 members.
Mr Wong said: "If religious groups start to campaign to change certain government policies, or use the pulpit to mobilise their followers to pressure the government, or push aggressively to gain ground at the expense of other groups, this must lead to trouble. Keeping religion and politics separate is a key rule of political engagement.
He also warned against "import(ing) into Singapore the culture wars between the extreme liberals and conservatives that are going on in the US."
To read DPM Wong Kan Seng's comment, click onto
mha.gov.sg
.
Update:
Fridae's CEO, Dr Stuart Koe, was interviewed by Channel NewsAsia on the matter. The video below originally aired Friday May 15 2009.