Kenneth Cheung has several claims to being unique in Hong Kong. He is the only publicly recognised gay activist who is HIV-positive. He is the only openly gay candidate to stand for public office (twice). He is the first person here to create a permanent drop-in and activity centre for tongzhi. He runs one of the most successful LGBT activist groups pressing for political change in Hong Kong today. Not bad as the life's work of someone who, till not long ago, didn't think he had many years left to him.

I went to the drop-in centre run by Rainbow of Hong Kong (香港彩虹), seven floors above the busy junction of Nathan and Jordan Roads in Kowloon, to talk to Ken about his work and about his remarkable life story, for the two are inextricably entwined.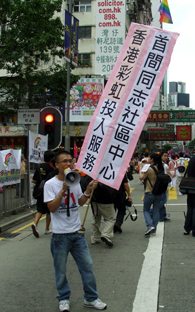 Kenneth Cheung Kam-hung is one of the main organisers of Hong Kong's International Day Against Homophobia and Transphobia (IDAHO) marches since 2005 and Hong Kong's first gay pride march which was held last December.

Ken, who's known to many by his nickname Ken-jai (Ken仔),realised he was gay and became sexually active while in secondary school. He left school after A-level and was diagnosed with AIDS (not just HIV) six months later in December 1995.
[Being HIV-positive, or having HIV disease, is not the same as having AIDS. AIDS is caused by a virus called HIV, the Human Immunodeficiency Virus. If you get infected with HIV, your body will try to fight the infection. It will make "antibodies" - special molecules to fight HIV. Many people are HIV-positive but don't get sick for many years. As HIV disease continues, it slowly wears down the immune system. HIV disease becomes AIDS when your immune system is seriously damaged. If you have less than 200 CD4+ cells or if your CD4 percentage is less than 14%, you have AIDS. If you get an opportunistic infection, you have AIDS. Source:
What Is AIDS?
(Thebody.com)]
This traumatic revelation could have cut short everything then, but instead, it led Ken to discover both AIDS Concern and the AIDS Foundation, and what he saw there persuaded him to volunteer to join both to help others like him. There was no cocktail therapy available in Hong Kong then, and Ken watched many of the men he knew die. He was sure then that he would soon follow them.
He believed he had little time left to act, so he immersed himself in voluntary work. He attended Hong Kong's Second Tongzhi Conference in 1998, where he met two men who inspired him to do more for the
tongzhi
community, Tommy Chen (Tommy jai) and Justin So. Both were prominent activists at the time (Tommy becoming famous some years later for his 'Rainbow Actions' in the Roman Catholic Cathedral and in front of the Central Police Station, where he led a protest against the prosecution of BDSM club and shop, Fetish Fashion). They gave Ken a taste for radical political action which he has never lost. Also at the conference was Dr Alan Li, one of the founders of the Ten Percent Club, who was by then working in Ontario. Li invited Ken to the MSM AIDS Conference in Toronto in 1998. Here, Ken saw large numbers of gay men at the conference, watched gay people together on the street (during the local Pride Day) and visited a LGBT centre in the city.
This was a revelation that proved to be a turning point in his life. He returned to Hong Kong determined to do something for the working class men he believed had no support from the community. By now, cocktail therapy had transformed his own prognosis and he had begun to have growing expectations of life. He began to make public statements to the media as a man living with AIDS and spoke also at meetings such as the Hong Kong University sociology sharing session organised by writer-activist Chou Wah-shan and Loretta Wong, who was later to become head of AIDS Concern. At this time he was still shielding his real name, as well as his face, from the camera, but despite this he managed to become the publicly-recognised spokesman for HIV sufferers in Hong Kong.
Setting up Rainbow of Hong Kong
In March 1999, with Justin and Tommy, he fulfilled the dream he had had in Canada by starting the group Rainbow of Hong Kong. This became a club, a network and an activist group, but at the time it had no base, so had to meet in rooms lent them by other NGOs. Even then they aspired to open a drop-in centre one day. That September, they made Hong Kong news for the first time when interviewed in
The Sunday
newspaper, and this led to an exponential growth in interest, inquiries and membership. They formed groups for secondary school pupils, for university students and for the elderly. Attempting to rent a space for a base in 2000, they failed to raise sufficient funds, but this attracted advice from a social worker, which led to a grant from the Equal Opportunities Commission and another from the Aids Trust Fund (ATF, the NGO administering HIV funding on behalf of the Government). With this, they opened their first Centre in Mongkok and Ken became a full-time volunteer at last.
Yet they were unable to keep the centre going. Costs, plus the departure abroad of Tommy and Justin, as well as Ken's increasing interest in the social democracy movement, led its closure in 2001 after less than a year. Ken's interest had by then turned to electoral politics. In 2003, at the district council election in the Mongkok South ward, he stood as a candidate for a group called 7.1 People Pile (七一人民, named after a mass protest in Hong Kong on Jul 1, 2003). He was unsuccessful, but tried again in 2007, also without success, this time for the League of Social Democrats. The abuse and criticism his openly gay platform attracted was a bruising experience, and he remains Hong Kong's only out gay electoral candidate to date. Knowing now that he had a much fuller life ahead of him than he had feared, he had gone back to education at the Hong Kong College of Technology in 2005; four and a half years later, he has just qualified to become a registered social worker.
During these years he did not forget his original project, and the idea sprang to life again in 2006, when he attended the Outgames in Montreal and, with the rest of the crowd of 50,000, heard Martina Navratilova make her inspiring speech: "Come out – tell the truth – play the game." She, and Alan Li, who was also there, rekindled Ken's enthusiasm and the second Rainbow Centre was born a year later. The Outgames in Montreal were also the last time, too, that Ken ever disguised his name or his face.
Incidentally, Alan Li's lifelong work in the gay and HIV communities has just been recognised in Canada, where in April 2009 he received the prestigious Council Award from the College of Physicians and Surgeons of Ontario in recognition of his achievements in improving health care for the many diverse and marginalised populations in Ontario. Alan is the first Chinese Canadian physician, the first HIV primary care physician and the first openly gay physician honoured with this award in the College's history.
Whether Ken will ever find himself similarly honoured in his own country is open to doubt. He himself admits that he is well known for the 'aggressive' type of community politics he and Rainbow have on occasion pursued; this is unlikely to have endeared him to Hong Kong's conservative establishment. But Ken's politics is beside the point in the issue of the preservation of the community facility he has created. It is again under threat.
The current Rainbow Centre in Jordan has one large meeting room that's not luxurious, though it's comfortable enough and provides a good space for people to drop in and chill out on its sofas, as well as for groups to use the tables and chairs for meetings. It has TV facilities and a library of both books and DVDs, an office for Ken and his staff of volunteers and a pantry and toilet. It's light and airy, a small haven in the heart of the city for those who seek some quiet or who need the companionship or comfort of their fellows. Rainbow of Hong Kong, the LGBT activist group that is based there, has over 700 registered members on its books and runs activities in the Centre as well as an outdoor programme.
Funding challenges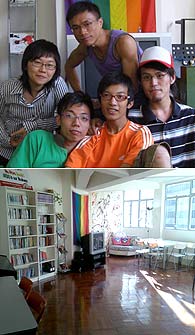 Kenneth Cheung with a team of volunteers at the drop-in centre located at Flat D, 7/F, National Court, 242 Nathan Road. Tel: (852) 2769 1069
Website: www.rainbowhk.org
In Hong Kong terms the Centre isn't expensive to run. The rent is about HK$11,000 (US$1,420) a month, in addition to which it has to pay for its utilities. On top of this would come Ken's salary, were he able to draw it. Basically, he gets whatever is left over and in many months there is little or nothing left to pay him. Money is a continuing headache. The
tongzhi
community contributes a little and the LGBT groups that make use of the centre pay something towards its running costs. At the moment, these include the Women Coalition of Hong Kong SAR and the CD (Cross Dressing) Family.
The AIDS Foundation runs support groups and workshops in the Centre, as well as HIV testing on Saturdays and Sundays. These activities, plus ongoing fund raising programmes, bring in about half the rent. The immediate shortfall is made up at the moment by the HIV drug company, Abbott, which sponsors the Centre's testing services and also helped promote the fundraising concert 'For the Long Term', which Rainbow held at the Baptist University late last year. But, as you can see, these sources of funds are currently all too little to cover monthly costs and leave the Centre without sound funding for the future.
The Hong Kong Government is not contributing. Up until last year, the Government had provided some funds through the ATF. When the centre was founded in 2007, some Hong Kong Health Department officials had just attended the XVI International AIDS Conference in Toronto (as had Ken), and there they listened to Alan Li's report on research indicating that AIDS prevention work was more effective when carried out from LGBT centres than from clinics. Impressed, on their return they gave Rainbow a grant to cover one year's HIV prevention work with MSM, though not for HIV testing or counselling. Using the grant, Rainbow ran workshops, did volunteer training, opened a hot line and involved itself in occasional activities like making an online radio programme and participating in the World AIDS Day 'Freehugs for HIV/AIDS' event.
The next year, a reduced grant from the ATF did not even cover the rent, though Rainbow carried on working with an outreach programme to gay saunas and bars and with the collection of the life stories of people living with HIV. Now, in 2009, even this grant has ceased, as the ATF has lost funding and has drawn back from many of its projects (its grants to both the AIDS Foundation and AIDS Concern are similarly suffering), telling Rainbow that its funds can now only be used for testing and counselling projects and not for projects concentrating on MSM. Another opportunity to apply for a grant comes up later this year, but there is not much hope in the current financial climate that Rainbow will secure one.
Typically, Ken is committed to fight on. He's beaten down so many obstacles already that he intends to win this fight, too. The Rainbow Centre has been part of his commitment to his fellow
tongzhi
and to those living with HIV and AIDS for too long for him to walk away from his dream now. It serves a population of young tongzhi whom society would otherwise leave out in the cold and has a wide outreach to the vulnerable and the needy in our community.
With a full time staff of only one and some dedicated part time volunteers, the Centre has few resources to raise its own funding whilst carrying out its community programmes. The 'For the Long Term' concert last year, and this year's benefit showing (on May 3) of Scud's new film,
Permanent Residence
, are evidence enough that Rainbow is doing what it can to help itself. But what it raises is currently falling short of its needs.
Hong Kong's tongzhi community is beginning to recognise that it is in danger of losing its Rainbow Centre for a second time; there is talk now of Fruits in Suits contributing part of its income from one or more events towards the Centre. Yet what the community has managed in response to this crisis has so far been insufficient. More help is urgently needed. Without consistent fundraising efforts to cover the longer term, Rainbow and Ken's dream may fail yet again.
If you would like to make a donation, you can do so via one of the following channels:
- Mail a local cheque (issued by a Hong Kong bank) to Rainbow of Hong Kong, Mongkok P.O. Box 78882, Kowloon, Hong Kong
- Make a transfer directly to their bank account [Hang Seng Bank, Account no: 356-142059-001, Name: Rainbow of Hong Kong]
- Make a transfer via PayPal [Cheung Kam Hung (info@rainbowhk.org) "Rainbow of Hong Kong"]