The studio of Hong Kong's web-based tongzhi (literally to mean comrade but is a commonly used term to mean LGBT) TV station, GDotTV, is housed in the offices which Nutong Xueshe (NTXS for short) opened with a bang in April this year by throwing a house warming party to which much of Hong Kong's tongzhi community was invited. Until then, only the Rainbow Centre in Kowloon had provided a meeting place for the community; now, on the Hong Kong side of the harbour, NTXS has taken up the fight to provide us all with somewhere to meet, to organise, to create TV programmes and to chill out. Their place is really well situated right in the heart of Causeway Bay near Times Square. NTXS has a lease there for a year, and the place is already attracting tongzhi groups to its facilities for seminars and classes. There's a large meeting room, a kitchen and toilet, and a spacious balcony which (when Hong Kong's muggy summer weather ends) will be perfect for BBQing. The video and computer equipment which form the heart of the centre are at one end of the meeting room. I went there one evening to meet Vice, Director of GDotTV, and she told me about NTXS and their project to put the tongzhi perspective to the public on the net. Vice is one of two Co-Directors who initially ran the TV station, but is now the sole Director as the other, K, has just stepped down to take a break.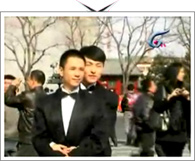 Behind the scenes of a same-sex wedding event staged by lesbians and gay men in Beijing on Valentine's Day this year.
Click here to watch
(in Cantonese).
In 2005, animated by the campaign that was then being waged by the Christian fundamentalist right to prevent the Government introducing a bill to prohibit discrimination on the grounds of sexual-orientation, a group met up with prominent Hong Kong activist and academic Yau Ching. They were all angered by the misrepresentations being made by the fundamentalists about the
tongzhi
community, in the media and on street-side bill boards, the usual highly unpleasant accusations linking gays and lesbians with dirt, disease and corruption of the family. It was time, they believed, to set the record straight. The result was the formation of NTXS, a platform for the community to express itself and to bring its real image to a wider public. NTXS had seven founders and now has a Committee of eight, including two Executive Co-Directors, Perspex and Siu Cho (the latter the hero of the successful action to seek judicial review of the Broadcasting Authority's censure of RTHK's programme
Hong Kong Connection - Gay Lovers
; see Fridae articles linked below).
Why did they choose for their group's name the Mandarin words
nu tong xue she
(女同學社), I asked? 'The ideas behind the Chinese characters are quite complicated', Vice explained, 'and they can't be directly translated.' In essence, they combine the concepts encapsulated in the character
nu
('female', 'girl', but extended in this context to include anything diverse that is not part of the masculine-oriented 'patriarchy' of traditional society);
tong
(meaning 'with', 'together', 'cooperation', and, when linked as nu tong, also 'lesbian');
xue
('learning', 'education', and, when linked in
nu tong xue
, 'female student') and
she
('association', 'organisation', and, when linked in
xue
she means 'school'). In short, it means something like 'association for
tongzhi
to come together to learn'.
All this sounded to me initially as though NTXS was a lesbian organisation, but my attendance at the house warming party disabused me of that idea. Vice explained that NTXS had expanded its initial founders to a core group of seven, both male and female, and a number of volunteers of all sexes and genders whom they had gathered. NTXS sessions are open to all, and the people using the offices now include a wide variety of groups and individuals, bisexuals, gays, lesbians and transgendered folk. 'People can see NTXS's value to the community and like its inclusiveness', Vice thought.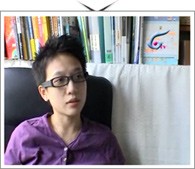 Lesbian multimedia artist Ng Wing Kei (吳詠琪) relates her experience about coming out at work in Hong Kong.
Click here to watch
(in Cantonese).
NTXS's first work was to set up a web site, named Rainbow Station, and this quickly accumulated contributions in the form of articles and essays on a huge range of subjects, over 200 to date. The English site of NTXS (though not yet of Rainbow Station, which they intend to translate when they have the resources) is at: http://leslovestudy.com. The website was followed by a series of seminars and workshops and led ultimately to the founding of the TV station, GDotTV, in February 2008. Initially, this was planned as a platform to support the
tongzhi
community to produce videos on LGBT matters, but it now accepts submissions from outside and also offers advice on the making of videos, running a seminar last year to train 20 volunteers in video production. These helpers have allowed the station to make a series of its own programmes, which are now online at GDotTV.com, almost all, save for one or two episodes made by non-Chinese contributors, in Mandarin or Cantonese.
The station offers a wide range of programmes mostly in Cantonese (some are in Mandarin):
LGBT Hotspot
is a show giving information on places to go, for food, shopping, bars, accommodation (with one episode on the Rainbow Centre in Kowloon).
Hong Kong Salvation
is a news and culture magazine covering items like the public appearances by Beijing tongzhi couples on Valentine's Day, 2009, and the judicial review of the RTHK programme,
Gay Lovers
last year.
LGBT Speaks
is a chat show, with interviews of prominent tongzhi figures, like the bisexual video artists Kiki and the US activist Irene Tung, from the 'Make the Road by Walking' organisation. This programme has interviewed subjects from as far afield as Taiwan, and currently the programme is working on some interviews in mainland China.
Study For One Minute
is a review of LGBT books by Yau Ching (who keeps it brief but thankfully takes rather longer than a minute to discuss each), and
Tongzhi Artists' Works
is, as it sounds, a venue for artists to air their work; three of the five episodes shown so far have been from Taiwan.
Other programmes shown so far are:
Cookery
, presented by Denise and her partner Lulu (the latter is the cook), one of the episodes of which was titled
Tom Boy Kitchen; Amazing Talent
, with items including a tomboy cutting hair in three minutes; and All About Heterosexuality, a satirical poke at the opposition presented by Siu Cho, who recites the speeches made by right wingers against the
tongzhi
community but replacing any words they employ for 'homosexual' with the word 'heterosexual'.
GDotTV now aims to widen its reach. It has run a video production tutorial for small groups since June this year and is planning a video production workshop bi-monthly from July. This will allow an additional programme screened from July, a regular documentary film on a
tongzhi
issue. Each programme they make needs a considerable number of volunteers to staff it. The film they made of a fundamentalist-style attempt to exorcise out homosexuality, for instance, was something that took five people to make. Filming events like the Pride parade or IDAHO can take up to five cameramen to ensure that all the shots are covered.
NTXS's new offices have already attracted a good deal of other activity. Siu Cho runs a study group on censorship on Tuesday nights; Febe runs a photography group on Wednesday evenings. From August this year, a class will be run on Google tools. All this comes at a cost, of course, in terms of rental, utilities and video equipment. NTXS has been very successful so far in attracting the funding that has allowed it to set up its office for the first year of operation, and which allowed initially the employment of two part time staff, the GDotTV Director and a Project Coordinator (Mandy, who has just replaced Chris, who has returned to study in Nottingham). Grants have been received from two US bodies, Mama Cash, a women's rights organisation, and Astrea, which supports lesbian groups. These grants have to be renewed annually, so NTXS will need to keep focussed on fund raising and may need other assistance or sources of funding in due course.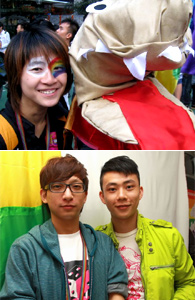 Above: GDotTV Project Coordinator Vice; bottom: GDotTV Executive Co-Director Siu Chio (left) with Tim Lee, an activist with Rainbow HK and co-star in Simon Chung's 2005 film, Innocent.
I asked Vice, who is one of the two part time Project Coordinators, how she had come to this role. 'I studied for four years in Singapore', she replied, 'on a Singapore Government grant, but I didn't plan to stay there and came back to study mechanical engineering at Hong Kong University. But I'd been into animation and graphics since I was young. I did my first animation in Primary 3'. Having graduated, she decided to look for work in the field she loved and started freelancing in animation, making and screening videos in Hong Kong and abroad, including in Japan. She has produced the animations, and wrote the lyrics, for an MTV screened at the Hong Kong Lesbian and Gay Film Festival. Having co-founded NTXS, she has, of course, done a lot of work filming LGBT videos with GDotTV. She's just got her Master's in Fine Arts and Creative Media at Hong Kong's City University. I asked her whether her work with LGBT - themed video had made it difficult to get a place at the City U. 'Not at all', she replied, 'it was actually a help. They are very liberal.'
GDotTV has a growing reach, and has record of 75,000 clicks onto its programmes since February 2008. These are mostly from viewers in Hong Kong, but also from anywhere across the Chinese diaspora, from China, Taiwan, the US, Canada, Malaysia and Australia. Being older, Rainbow Station still gets proportionately more hits, receiving 120,000 since May 2008.
Unfettered access to the internet is clearly something of great concern to NTXS, and it is naturally the front running group in the Hong Kong
tongzhi
community on the issue of censorship. The Hong Kong Government is currently considering proposals to revise the Obscene and Indecent Articles Ordinance, and NTXS is leading the fight to keep the net free. As part of this, they have tested a series of filtering systems used in Hong Kong, analysing those which block out LGBT sites. They presented their findings to the Legislative Council in October last year and gained some coverage in the local press at the time, but little more than an acknowledgement from the Government. In January this year, they set up a new website, nocensorshiphk.com, to provide a template for people to oppose any future censorship of the net, and this has so far attracted some 16,000 signatures. The second round of consultations on the new Ordinance is expected to commence soon, and NTXS is standing by to spearhead the
tongzhi
community's reaction then. We will be bringing you this story as it unfolds over the next few months.