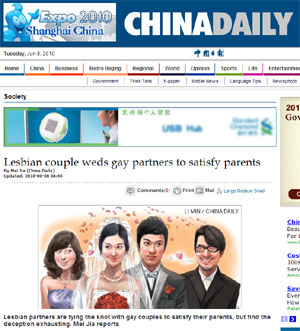 Some 90 percent of China's homosexuals – estimated to number 39-52 million – are trapped in marriages with straight partners, state-run English language newspaper China Daily quoted prominent sociologist and sexologist Li Yinhe of the China Academy of Social Sciences as saying in a 2006 interview with Guangzhou Daily. She attributed the numbers to a lack of understanding of homosexuality and traditional mores that are forcing more gay men to marry, and even beget children.
The report also cited a 2005 survey of 200 gay men, by the Guangdong Center for Diseases Control and Prevention, that revealed that 30 percent of them were married [to women presumably since same-sex marriages are not legal in China].
A lesbian couple Zhang Nana, a 32-year-old working for a Beijing-based magazine, and Shenlan (not their real names), 29, who was profiled in the report both married gay men to placate all four parties' parents.
They began their search for a gay couple in 2005, setting two conditions for their prospective "husbands": no body contact and no children.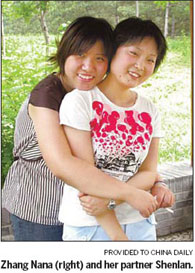 In October 2006, Zhang and her husband, a 31-year-old university lecturer surnamed Wang, threw a wedding banquet for more than 100 relatives and friends; her partner was a bridesmaid at her wedding.
The following year her partner Shenlan married Wang's boyfriend.
"My life has become an endless round of deceptions. I'm exhausted with all the lying. I have even had to abandon some of my cherished friendships," Shenlan says.
"We thought a gay couple could help all four of us keep our long-term relationship," Zhang says. "But we were wrong."
Zhang and Wang divorced three years into their marriage. She has not reconciled with her family since she come out to her parents after her divorce.