The November 27 elections will involve constituencies with 13.7 million people, or 60 percent of Taiwan's total population, in five major cities: Taipei City, Xinbei City (Taipei County), Greater Taichung, Greater Tainan and Greater Kaohsiung. Voters will elect elect mayors, councillors and ward chiefs on the same day.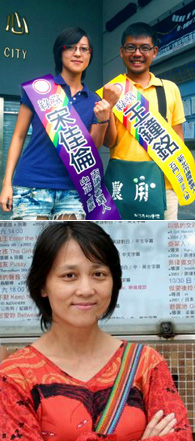 Top: Song Jia-lun and Wang Chung-ming (right); bottom: Wang Ping
Observers say the elections are widely seen as a warm up for the presidential polls in two years which may influence the outcome of the Presidential polls in 2012. The hardest race to call of the five is said to be in Taipei City, the "main battlefield for the ruling Kuomintang and the opposition Democratic Progressive Party" as described by Channel NewsAsia.
The Wall Street Journal reported on Nov 25, 2010: "Strong wins for the Kuomintang, or Nationalist Party, would signal political stability and, while the elections are fought mainly on local issues, would suggest backing for its pro-China policies. That would cheer investors who have poured money into Taiwan on hopes that stronger ties would benefit the island over the longer term. Strong support for the opposition Democratic Progressive Party, on the other hand, would likely prompt the Kuomintang to do more to spur growth to help those hurt by the competition and dislocation resulting from a new free-trade agreement with China."
For the first time in Taiwan, three openly gay candidates will be running in the special municipality elections.
Wang Ping (王蘋), secretary-general of the Gender/Sexuality Rights Association in Taiwan (台灣性別人權協會), is running as an independent candidate in the Da-an (大安) and Wenshan (文山) districts in Taipei City. The prominent 50-year-old veteran LGBT activist has notedly been a prominent voice in scrutinising government policies with regards to sexual orientation, and keeping gay and lesbian rights at the forefront of public debate in Taiwan. She is a member of the civil society group Citizen as Priority Open Club (人民老大開開團) that allows people to voice their opinions, which can later be drafted into policies. "It's wrong to project your ideals onto a politician and expect him or her to change things for you," Wang was quoted as saying in a Taipei Times report. "People should get involved and let their voices be heard." She was also the convener-in-chief for the Taiwan LGBT Pride Parade in 2007. Wang holds a master's degree in architecture from the University of California at Berkeley in the US.
Song Jia-lun (宋佳倫) is a Green Party (綠黨) candidate for the Zhongzheng (中正) and Wanhua (萬華) districts in Taipei City. At 27, she is the youngest of the three candidates. Nicknamed SM Queen, Song is widely known to be a c-founder of the BDSM Company (皮繩愉虐邦) and is a self-professed dominatrix. The group holds lectures and meetings to raise awareness of and destigmatise sadomasochism. In an interview with the Taipei Times, she says she advocates the legalisation of the sex industry because it's fair for people to utilise their "natural talents" to get by. "If I could take on a job as a dominatrix legally, that would be a highly specialised job with a hefty salary," she said. "Instead, I am forced to toil away in low-pay, contract jobs." But it's not all about sex, Song, who is currently a postgraduate student in psychology, campaigns against poverty, exploitation of workers, and supports the rights of the homeless. "When you are broke, you are not that far away from being homeless," Song said.
Fellow Green Party member Wang Chung-ming (王鐘銘), who campaigns for the rights of gay hearing impaired people, will be running in the Shihmen (石門), Sanjhih (三芝), Bali (八里) and Tamsui (淡水) districts in Xinbei City (formerly Taipei county). He has been a member of the Green Party since 2006, became a member of its Central Executive Committee and helped orchestrate the party's election campaign. "Earlier this year, I tried to help the party find a gay candidate, but failed. So I decided to take the plunge." The 32-year-old was quoting as saying by the Taipei Times.
Read Fridae's interview with Wang Chung-ming and Song Jia-lun.