Openly gay author and pastor Rev. Oyoung Wen Feng and his partner Phineas Newborn III are now legally married. The couple took advantage of New York's marriage equality law and married on August 31 – Malaysia's Merdeka (independence) Day – at the New York City Hall. In June, New York became the sixth US state to legalise same-sex marriages.
News of Malaysia-born Oyoung's marriage made the headlines in his home country and attracted the criticism of Malaysia's Islamic Affairs Minister who called Ouyang's plans to marry as an example of "extreme freedom."
Explaining his decision to register on Aug 31, he told Fridae in a interview published last month: "(The date) is to honour my country, I am proud to be a Malaysian, even though the government sucks!
"But I believe things will get better, if all people will come out to fight for a better future, I am not talking about come out in terms of sexuality, but come out from fear, regardless what kind of fear it is, whether it is the fear of choosing ones career, or fear of coming out from a bad relationship, or fear of coming our from dictatorship and oppression."
Oyoung, whose real name is Ngeo Boon Lin, was previously married to a woman for nine years until he "came out" publicly in 2006. His 47-year-old Broadway producer husband is from a well known family of jazz musicans whose name he bears, and has a teenaged daughter from his previous marriage.
The pair were married in a ceremony presided over by Rev. Gayle Davis who is a good friend of the couple and staff pastor at Metropolitan Community Church of New York where Oyoung also serves as a staff pastor.
Speaking to Fridae several days after the wedding ceremony, the 41-year-old Oyoung said: "To me, the verdict is in and the battle is won, sooner or later people will accept the fact that homosexuals and heterosexuals are all equal human beings and should be treated with respect and dignity, just like the Church finally accepted the fact that the earth is revolving around the sun.
"The question now is how soon it will be happening. We need to work harder so that it will happen as soon as possible. Many people are suffering under homophobia everyday, some people have taken their own lives because of the stress. More people need to come out to support gay people. People need to know it is not about lifestyle, it is about life!"
The New York-based pastor said he intends to hold a wedding banquet in Malaysia next year.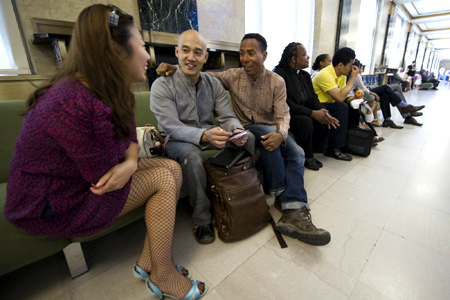 At the New York City Hall with a reporter (extreme left) from World Journal,
a Chinese newspaper in the US, and Rev. Gayle Davis (in black).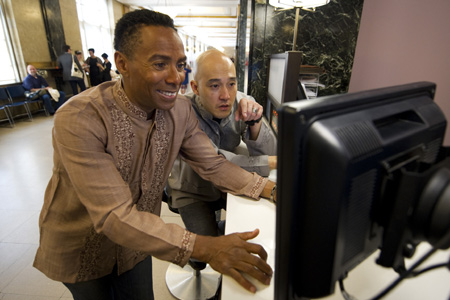 Phineas Newborn III (left) and Oyoung Wen Feng (right)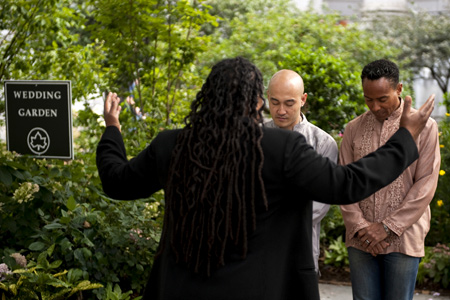 With Rev. Gayle Davis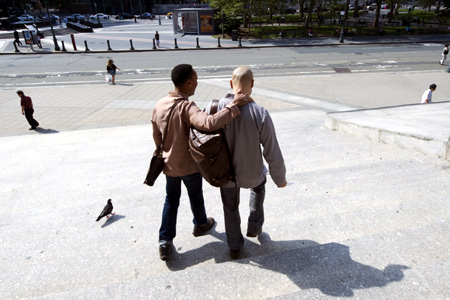 All photos are courtesy of Oyoung Wen Feng.
Photographed by Donald Emmert from AFP.
---
From proposal to marriage

by Oyoung Wen Feng (Sep 8, 2011):
We made our divine appointment on June 26, 2011. It was serendipity at its best. Not only was it our second year anniversary but also, it was gay pride in NYC. Rev. Pat Bumgardner was the Grand Marshall, Phineas' mom was here for his daughter's graduation from middle school and to top things off the Marriage Equality Act had just passed two days prior. Wow! How the stars were aligned!
It could not have been a more beautiful day! Our most vivid memory of that day was how emotional we were during the proposal. Phineas began to cry when he saw me start to tear. Then his mom, daughter and half the congregation were crying. It was magical! When Phineas actually proposed it was a complete surprise because when he began the song I thought it was just to honor our anniversary. Although, I think I was the only one who didn't know what was going to happen, when Phineas sang:
"The present is a gift, to take, not give away; The present is a gift, I open it today; Right here, right now, I am ready, I know how to share a love that's true Boon, I want to MARRY YOU." I was shocked!
The parade was the icing on the cake! To walk in the street with my soon-to-be mother-in-law and stepdaughter was the most amazing feeling. We were all proud that our love was being recognized by the state of NY.
Our wedding had its challenges, like all things worthwhile, don't come easily. We arrived at 12 PM and were not married until almost 4 PM. Rev. Gayle performed our vows in the Wedding Garden in front of City Hall. It was bittersweet for Phineas because he got news that his grandmother Zenobia James Carey had passed that morning just after turning 105 years old. Although he was grieving his loss he said with a smile: "I guess she wanted a front row seat to our wedding." We know that we both have a beautiful angel to watch over us.