Chen Jing-hsueh and Gao Jhih-wei, who is the first same-sex couple who sought to register at the Taipei City Zhongshan District Household Registration Office on 18 Aug 2011, had their application turned down.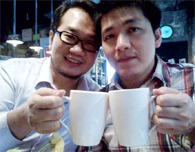 Chen Jing-hsueh (right) and husband Gao Jhih-wei.
They then wrote to the Department of Civil Affairs (Taipei City Government) and were told that same-sex marriage is not permitted under existing civil legislations, and so the Household Registration Office is unable to approve their application. They were additionally advised to appeal within 30 days should they feel aggrieved by the decision made by the Office "since the issue of same-sex marriage is still being studied."
Chen, who is the founder of Taiwan Gay and Lesbian Couples Association (GLCA) - an advocacy group, decided to go to court after his appeal to the Taipei City Government was unsuccessful.
The couple was unofficially married in a public wedding ceremony in September 2006. They are believed to be only the second same-sex couple to wed in a public ceremony after Dr Yu Shen Shu and his partner, who is only publicly known as Gray, who wed in Taipei in 1996. Several other same-sex couples have since followed suit.
Chen and Gao filed a lawsuit in August 2011 and named the Taipei City Zhongshan District Household Registration Office as the defendant in the court case. The case was first heard on 27 March 2012 during which an officer representing the Household Registration Office denied having made any mistake in rejecting the couple's application.
The couple did not attend the hearing but were represented by a lawyer Jerry Kuo-Cheng Huang (黃國城) who argued that civil law does not specify that only a male person and a female person can register for marriage.
As the couple believes that gay men and lesbians deserve the right to marry, they decided to sue the Zhongshan District Household Registration Office to demand their right to be registered as a household.
Chen and Gao also added that since they have abided by the laws governing Ceremonial Marriage under the common laws to hold a public wedding ceremony in September 2006, so the Registration Office should process their application.
Until 23 May 2007, under Taiwan's Civil Law, any marriage that has a public ceremony with two witnesses will make the marriage effectively official. But after 23 May 2007, Clause 982 was amended so that only with registered unions will be recognised.
Huang argued that since Chen and Kao's public ceremony was held on 24 September 2006 before the amendment came into effect, the old law should apply.
Huang, who spoke on behalf of the couple, told the media that the couple is seeking a legal and formal recognition of their relationship as well as other legal rights and entitlements such as adoption of children.
In a tele-conversation with the Liberty Times, Chen, who is in Japan, said: "The constitution provides for equal rights for every individual, and no one should be denied that basic right of a citizen. Chen says his marriage with Gao has been going on for six years, and this law suit is not to obtain more legal rights for gay men and lesbians, but to have the rights they deserve." He vowed to try his best to win, and does not rule out seeking a constitutional interpretation from the court if the current suit fails."
The next court hearing is scheduled for 10 April 2012. Chen, Gao and both their mothers are expected to appear in court for the first time, to show their support for legalising same-sex marriage. Supporters and media are welcome to attend the hearing.
The above article is translated from news reports in Chinese linked below.

A panel discussion with Chen Jing-hsueh, his lawyer Jerry Kuo-Cheng Huang
and citizen reporter He Chung-Hsun (in Chinese). See related article in Chinese.