Pink Dot, a public event organised to raise awareness and foster deeper understanding of lesbian, gay, bisexual and transgender (LGBT) people, is set to take place on June 30.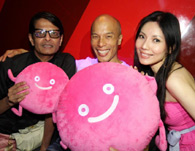 Pink Dot 2012 ambassadors (from left) actor-comedian Kumar, former TV show host Sharon Au, and stage actor Lim Yu-Beng. Photo: Pink Dot/ Facebook
First organised in 2009, the event saw 2,500 attendees while 2011 saw its largest turnout to date with 10,000 people thronging Hong Lim Park – the only venue in Singapore where demonstrations or any event of its kind is allowed.
This year, for the first time in its history, Pink Dot 2012 will take place at sunset and culminate in the formation of a "pink dot of shimmering torches, light sticks and glowing mobile phones, in the first hours of darkness," reads the press statement released last Thursday.
"Having a Pink Dot formed at night makes for a dramatic message of inclusivity and acceptance – a celebration of unity in diversity that emphasises our shared belief in the Freedom to Love, " said Pink Dot spokesperson Paerin Choa.
At a series of parties over the long Easter weekend, Pink Dot 2012 announced its three ambassadors, actor-comedian Kumar who came out as a gay man in the local media last year, former TV show host Sharon Au, and stage actor Lim Yu-Beng, in a special announcement video.
Supporters of Pink Dot can make a contribution or purchase the Pink Dot plushie toys that were launched over the weekend. Proceeds will go towards fundraising for Pink Dot 2012. Available in three sizes, the toys can be purchased online from ActuallyShop.com, or at Hide and Seek (71 Bussorah St. Tel: 6296 2036), ActuallyActually (16 Purvis Street, #02-01 Tel: 6336 7002) or VERY Wooonderland (B3-12 ION Orchard Tel: 6738 0002).
WHAT: PINK DOT 2012
WHERE: Hong Lim Park
WHEN: Saturday, June 30, 2012
WHAT TO BRING: Pink lights!
WHAT TO WEAR: Of course, PINK!
TIMINGS: Activities commence 5.30pm, Concert begins at 6.30pm, Dot is formed at 7.30pm, or when it is sufficiently dark
*Please note: According to the park's terms and conditions, only Singaporeans and Permanent Residents may participate at the events held at Hong Lim Park. However, foreigners are most welcome to watch and observe. For more info, please click here.